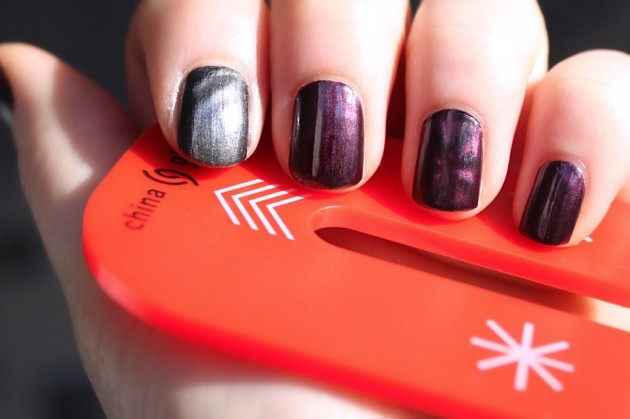 The product: China Glaze Magnetix Nail Lacquers in Attraction and Instant Chemistry
Does anyone else remember when Lancome put out Le Magnetique, back in 2007? I remember thinking it was so cool – it was the first I'd ever seen of magnetic polish, and no one else was doing it at the time!
The trend may have taken a while (okay, like, five years, which in internet-time is like forever) to take off, but I'd say they're finally coming into the limelight.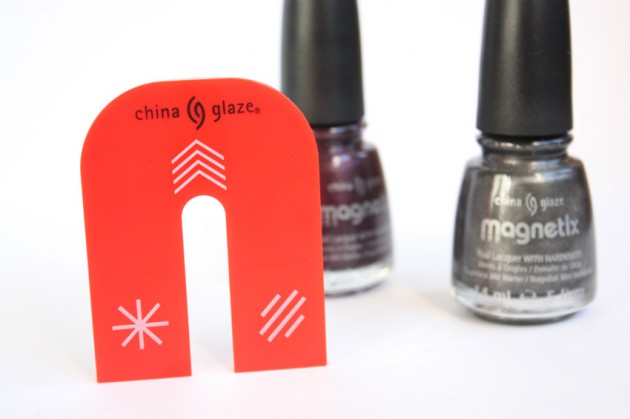 China Glaze Magnetix 3-in-1 magnet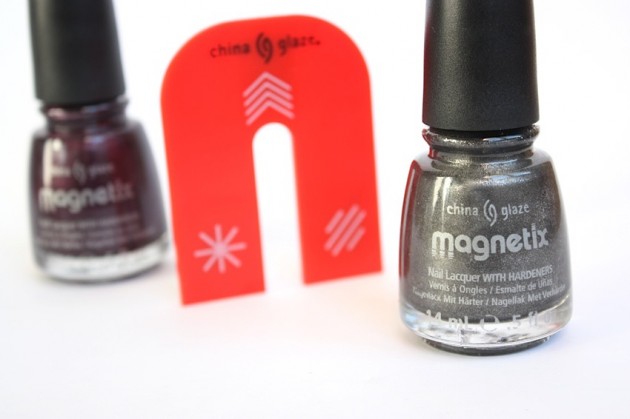 China Glaze Magnetix Nail Lacquer in Attraction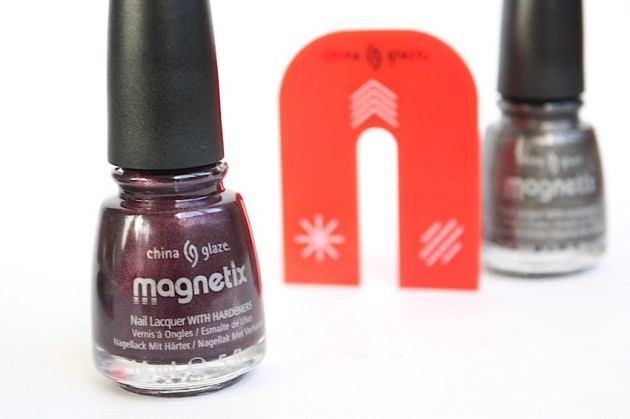 China Glaze Magnetix Nail Lacquer in Instant Chemistry
The first few times I tried these Magnetix polishes, I wasn't really impressed – they had the potential to be awesome, but they just seemed kind of mediocre, you know? But I gave them another try, and then another, and by the third time, I was starting to see what all the hype was about.
For starters, Instant Chemistry is just about the sexiest burgundy-plum polish I've ever come across, and (while it looks a little streaky during application), it settles into just the right evenness. I know not everyone agrees with me on this, but I like a little bit of a brushed-metal finish in my metallics and shimmers – not so much that it's streaky, but just enough to give a little texture.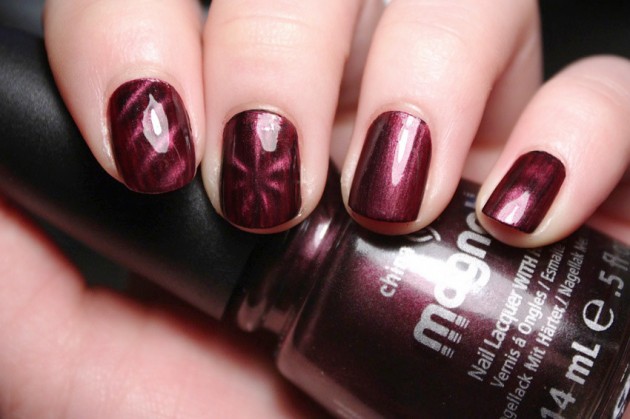 Instant Chemistry with topcoat in artificial lighting. Just one coat!
Diagonal lines on index finger, star design on middle finger, plain ring finger, herringbone pinkie finger.
And Attraction; oh my heart! It's a little on the streaky side when left un-magnetized, but get that sucker under the magnet and wow. It lights up like the night sky, the base shade getting darker and the silver shimmer becoming starkly contrastive. Takes a few tries to get used to application process, but it's so, so worth it.
(Just to note – this post contains three separate photo sets, as the results are quite different depending on application. I dawdled a bit the first time, but the patterns are so much more obvious if you hurry with the magnet!)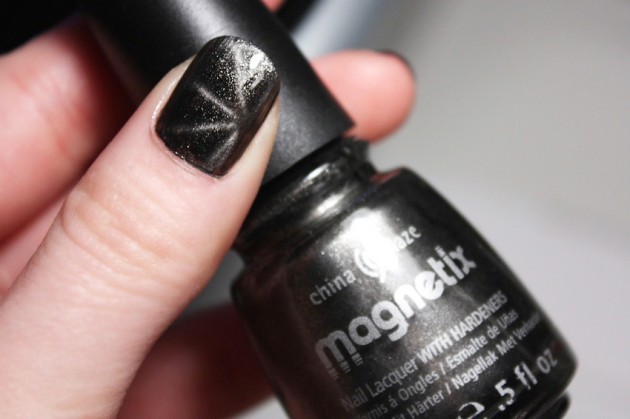 Instant Chemistry and star design; no topcoat, one layer.
The verdict?
I didn't think I'd like these, after the first time I gave them a go, but it turned out I just wasn't being quick enough getting my nail to the magnet. If you're okay with being a bit of a speedy Gonzales with these polishes (a pop culture reference which, to be entirely honest, I don't actually understand outside the context of colloquialisms), I'd say give these a try!
The magnet effects are (of course) incredibly cool, and the shades are absolute stunners. I'll still be on the lookout for a magnetic polish with even more pop!, but in the meantime, I'm quite happy with these!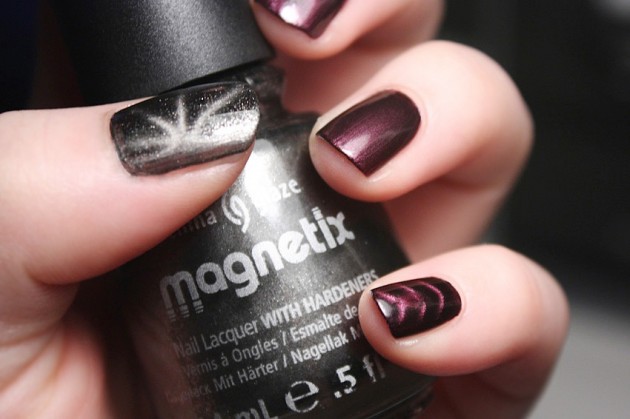 Attraction and star design on thumb; Instant Chemistry on ring and pinkie fingers. (Plain and herringbone, consecutively. Two coats, no topcoat.) Artificial lighting.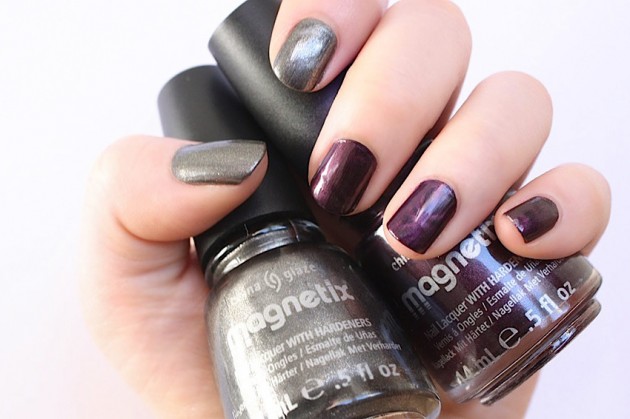 China Glaze Attraction (plain on thumbnail, diagonal lines index)
China Glaze Instant Chemistry (plain on middle finger, star design on ring finger, herringbone on pinkie)
Two coats of each; no topcoat; indirect sunlight.
Availability
I'm not sure which China Glaze stockists will have the Magnetix collection in Canada, but these were sent in by Nail Polish Canada – grab 'em (and the magnet) for $10.50 apiece here!
Just as a heads up: Yes, I've found them cheaper on other sites, but my god do the US shops ever gut us on shipping. 2-7 business days is just $5 up to a $29 order through Nail Polish Canada, and over that, shipping is free.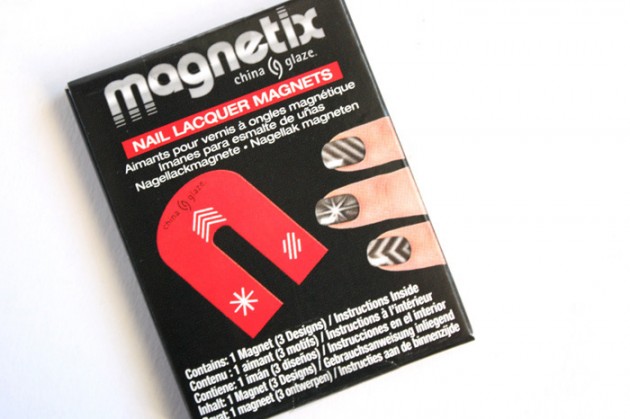 China Glaze Magnetix Nail Lacquer Magnets (3 in 1)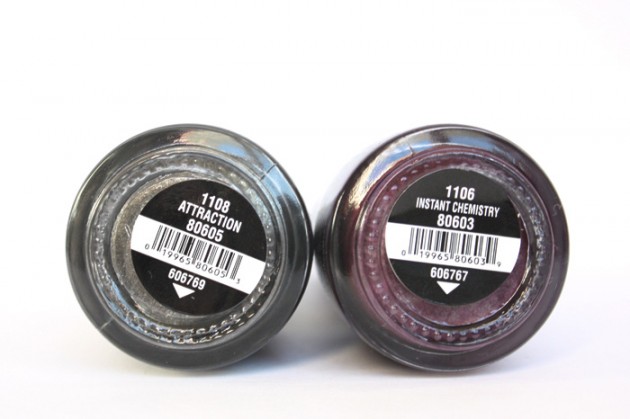 China Glaze Magnetix Nail Lacquers in Attraction and Instant Chemistry