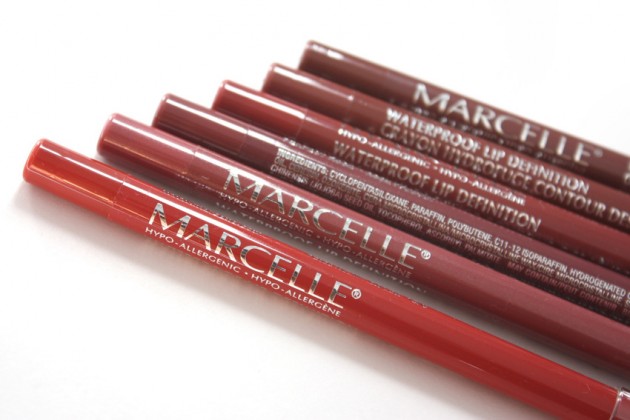 The product: Marcelle Waterproof Lip Definition Crayon
Marcelle's Waterproof Lip Definition Crayons are strikingly similar to their Waterproof Eyeliners (yet to be reviewed; I have them swatched and photographed, but haven't gotten around to it yet). Both feature a rather "sticky" texture, which tugs at the skin as the pencils are applied, but
Hold up one second.
I've just gone and checked the ingredients, and guess what? Marcelle's Waterproof Lip Definition Crayons aren't just similar to their Waterproof Eyeliners – they feature the exact same formula, save for the colourants. Turns out, this isn't all that uncommon in waterproof pencils, either: I've only checked two or three other lines so far, but Make Up For Ever is an example of another brand who does it. (Their Aqua Eyes and Aqua Lip liners, that is.)
Well, then! You learn something new every day, don't you? ;)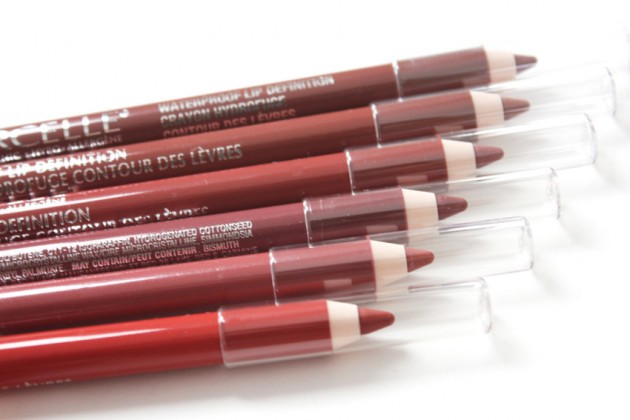 Anyhow, back to the product at hand. These lip pencils, like the eye pencils, feature a smooth-but-sticky texture, by which I mean: the product does go on smoothly and without any grittiness or texture inconsistencies, but needs a bit of pressure to get the line going. It's a heavy pencil, more crayon than buttery khol, and (I warn you now!) might tug or skip a bit.
Where these run into problems with application, though, they make up for it in wear time. They remind me of the GOSH Velvet Touch pencils, if that helps give you a standpoint for texture – similar to UD 24/7 or MUFE Aqua liners, but less smudgy and with better wear time. Once these are on, they're on.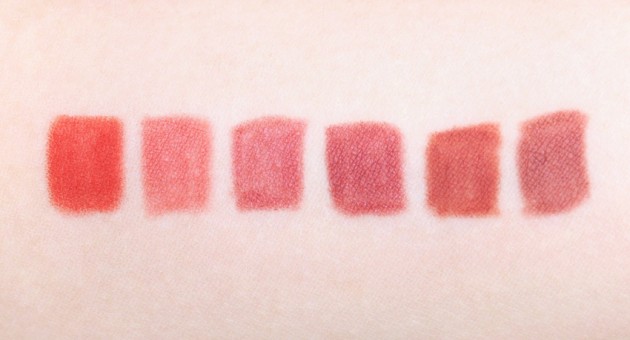 Swatched L-R: Sienna, Pebble, Perfect Rose, Jewel, Spice, and Nude.
The verdict?
At $10.50 per pencil, these are a good buy if you're looking for a really long-wearing lip liner. I do tend to reach for my 2 in 1 Retractable Plumping Lipliners when I'm going for a Marcelle pencil, though; they may not wear as long, but I find them easier to apply. (Plus, I'm a sucker for a creamy matte lip, and the 2 in 1 pencils give a softer effect if used as a lip colour rather than just a liner.)
The only thing I'm not crazy about with regards to the Waterproof Lip Definition Crayons is the colour selection – Marcelle's products tend to run a little too warm/orange for my colouring, so I don't get as much wear out of these as I'd like. If you can rock a warm lipcolour, then give the se a go! 
The ingredients
Cyclopentasiloxane, Paraffin, Polybutene C11-12, Isoparaffin, Hydrogenated Cottonseed Oil, Ceresin Ozokerite, Microcrystalline Wax, Jojoba Seed Oil, Tocopherol, Ascorbyl Palmitate.

+/- Bismuth Oxychloride, Mica, Iron Oxides, Titanium Dioxide, Red 7 Lake, Manganese Violet, Red 28 Lake, Red 6, Carmine