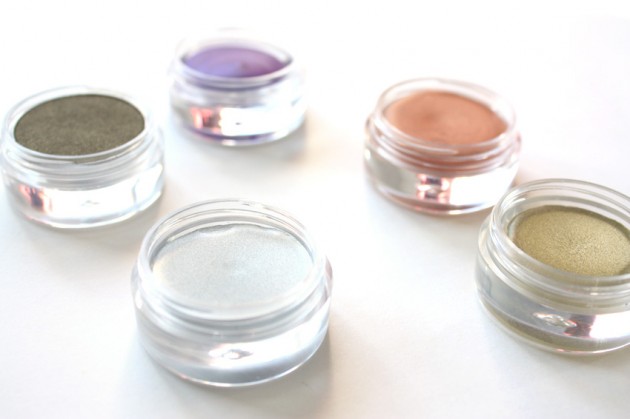 The product: Facefront Tokyo Future Cyber Gel Cream Eye Liner + Color Base in Weekend Warrior and White Rice
Oh, FaceFront. Why do you have to do this to me on such a frequent basis? I feel like you're creating innovative new torture methods, just for beauty bloggers, and I'm your sample size of 1.
But let's not get ahead of ourselves, yeah? I'm going to start with the good stuff, then work our way to the bad.
The shades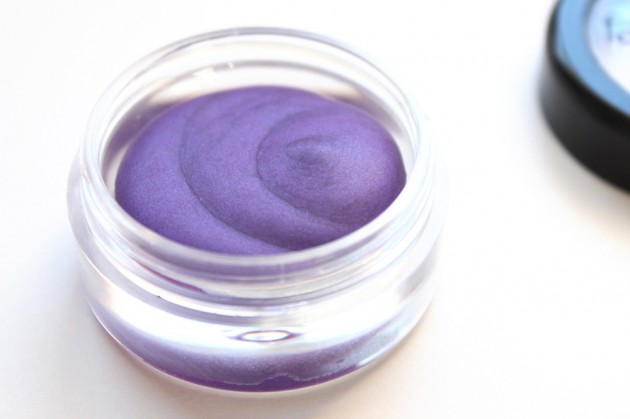 Weekend Warrior (Pewter Finish) is a gorgeous deep purple, with strong blue undertones but red microshimmer – a violet-lover's dream. It's even prettier in real life than it is on camera, and is up and down a "true violet" if I've ever seen one. I think it's due to that perfect blue-and-red mix; it's hard to make a violet that's really violet both on film and in person, but FaceFront nailed it with this shade.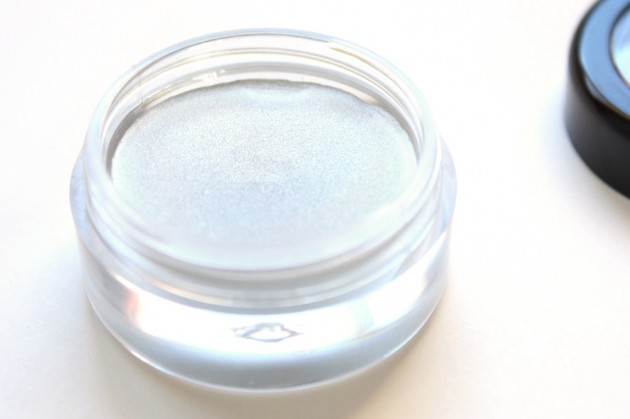 White Rice (Pewter Finish, and don't even get me started on that name) is described by FaceFront as being "a slightly metallic and very bright classic white," but I have to disagree. It's definitely bright, but I'd describe it more as "packed with microshimmer" than "metallic", and it's more of a light silver than a classic white.
Either way, it's gorgeous. Whites and off-whites can get boring pretty fast, but this one has me rapt!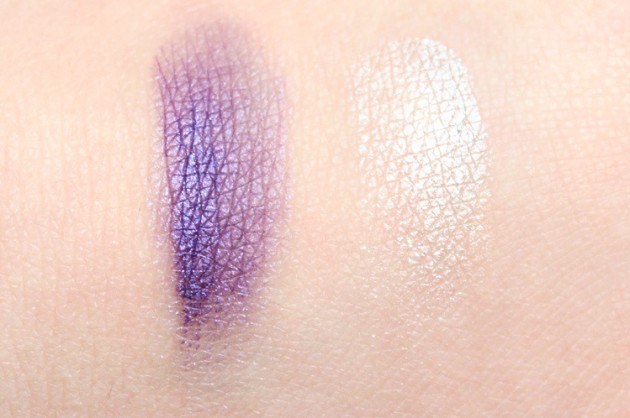 Swatches of Weekend Warrior and White Rice. Incandescent lighting + colour correction (sorry.)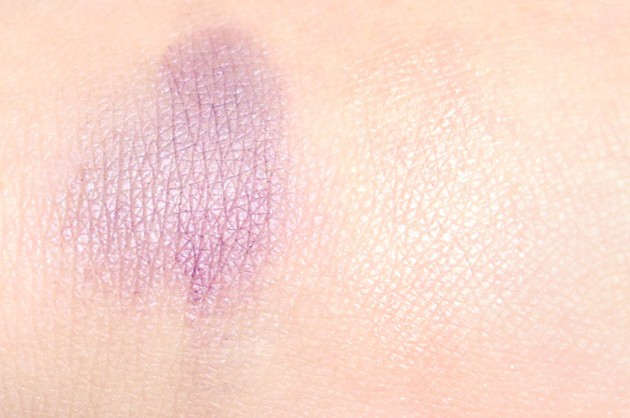 Smudged with a light tough, after being given twenty minutes to set (and stubbornly refusing to do so).
The wear
Aaaand here's where things start going downhill. As pretty as these two shades are, they just don't cut it when it comes to wear – neither really "sets," so even if you manage to get them perfectly even (easy to do with White Rice, obscenely difficult with Weekend Warrior), the results won't last long.
I wanted to talk about wear with some lid swatches, so I'm afraid I'll have to leave you hanging for a bit. I should have part two of this review ready by tonight or tomorrow, but I'll keep going and give these a verdict for now! Wear will be discussed extensively in the next part; for now, all you need to know is that it was (very much) not impressive.
The big issue
There are a handful of reasons why I typically go for products that are "mass-produced," rather than mixing things up at three in the morning to meet my specifications exactly. One of those is time, sure, and another is a lack of a chemist's lab in my office, but the big one is consistency. When you buy from a brand, you can expect a general level of consistency from shade to shade of a formula… right?
(I'm sorry, I think I need to take a breather to laugh hysterically.)

(But seriously, what beauty blogger hasn't mixed up a shadow or lip product or blusher or five? God, we're all just junkies scrambling for our next [colour] fix.)
Right, so back to expecting consistency. Which is to say: not so, in the case of the Cyber Gel line!
Using just these two as an example, White Rice is has the texture of frozen butter, if that makes any sense –  solid, but it "melts" smoothly onto your fingertip or brush. (Which is a good thing, in case that wasn't clear. I don't think that was clear.) And then there's Weekend Warrior. Completely unlike White Rice, it's solid and dry, rather than solid and buttery, and it's a pain in the arse to work with.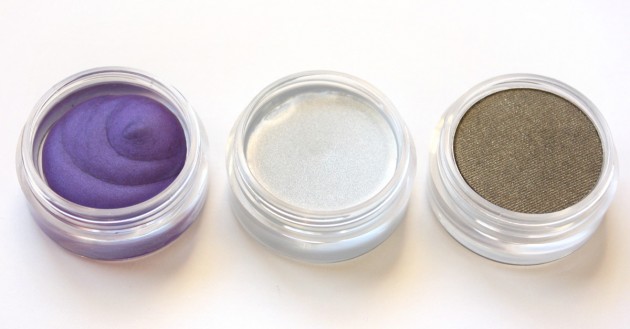 The verdict?
Skip on these, if you know what's good for you. The shades are absolutely gorgeous, but are still very much not worth the hassle – there are a ton of other great (or even just "better") cream formulas out there, and these just aren't up to snuff.
I hate to give such a negative review for these, because FaceFront do some of the most unusual, breathtaking colours, but sometimes (read: right now), I feel like they should stick to powder products until they figure out the perfect creme formula.
Which they've yet to do.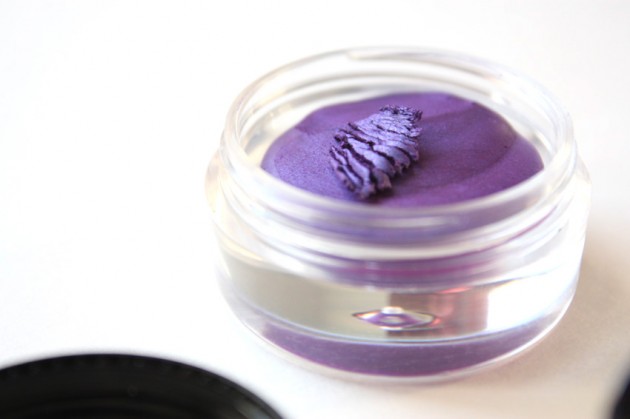 Ingredients: (paraben-, silicone-, and perfume-free)
Hydrogenated Polyisobutene, Ethylene/Propylene/Styrene/Butylene Copolymer, Orchid Oil, Grape Seed Oil, Apricot Oil, Beeswax, Vitamin E Oil. +/- Mica-77019, Titanium Dioxide-77891, Iron Oxides (77499, 77491), Tin Oxide-778161.