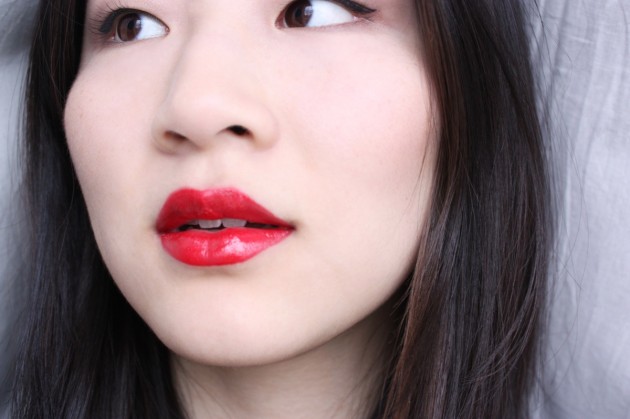 This round of the Lipstick Bandits is all about layering lip products – one of my favourite pastimes! (Oh, the lives of beauty bloggers. I mean, gosh, how thrilling, right?)
(But no, seriously. I'm really into layering products; it's ridiculous.)
The challenge was to find a red lip colour, preferably a lipstick, then layer a shimmery, sparkly, or glittery product overtop. I had a bit of a swatch fest with Annabelle Rouge Velours Lipstick in Adrenaline as my base colour, but alas…
…I didn't end up going with any of those combinations.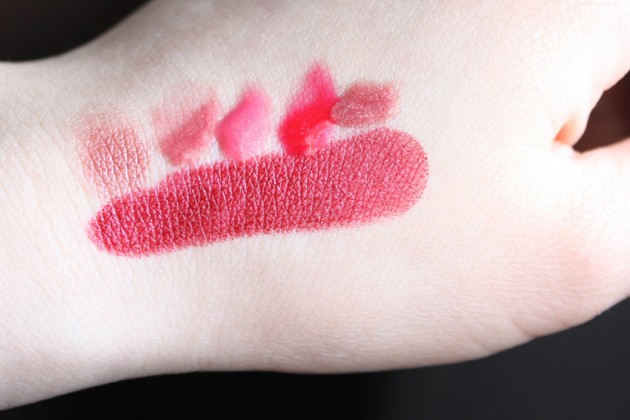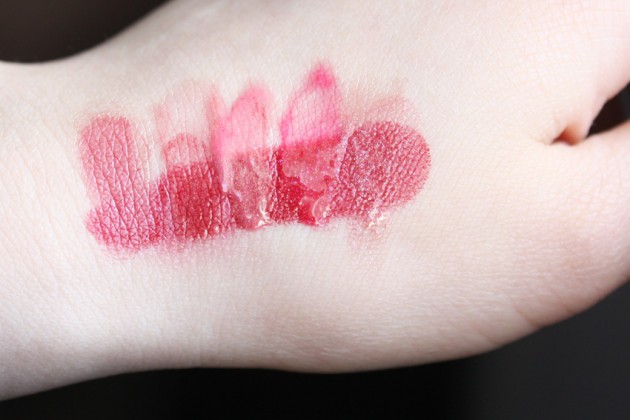 Swatched R-L: Clarins Rouge Prodige Lipstick in Passion Rose, Clinique Lip Smoothie in Strawberry Bliss, Korres Cherry Lipgloss in Rose and Fuchsia, Benefit Ultra Shine Lipgloss in So Frisk Me.
Even after all that (and taking two full photo sets of Adrenaline + Korres Fuchsia), I ended up going with a new find that I can't get enough of – the Bite High Pigment Lip Pencil in Pomegranate. (Review here). After a quick layer of Pomegranate, I layered Stila's Brown Sugar Lip Glaze overtop for a bit of shimmer and shine. In retrospect, though, I should have picked something with larger shimmer particles – the change in texture is obvious, of course, but I feel like the shimmer could have "popped" more!

LEFT: Bite Pomegranate (only) / RIGHT: Bite Pomegranate + Stila Brown Sugar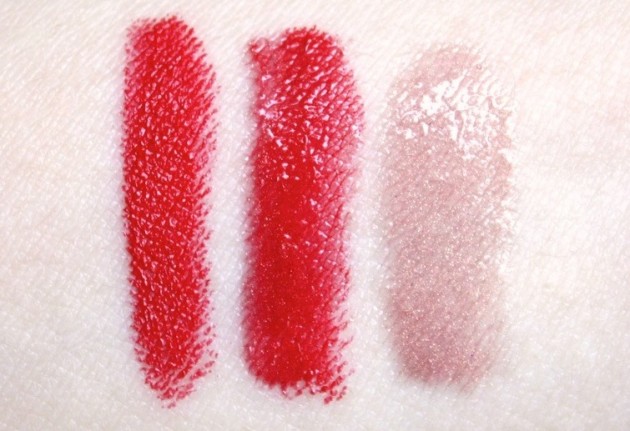 LEFT: Bite Pomegranate / MIDDLE: Bite Pomegranate & Stila Brown Sugar / RIGHT: Stila Brown Sugar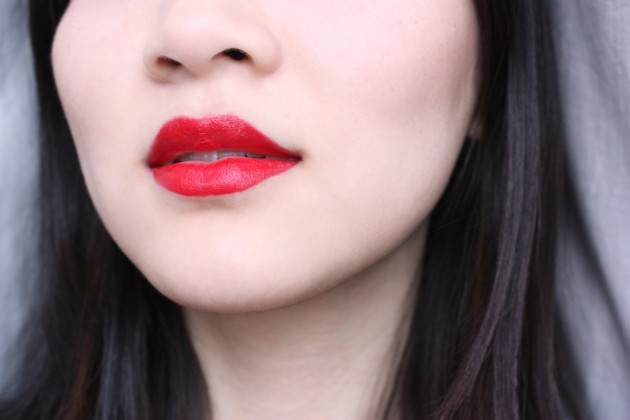 Above: wearing Bite Pomegranate (only)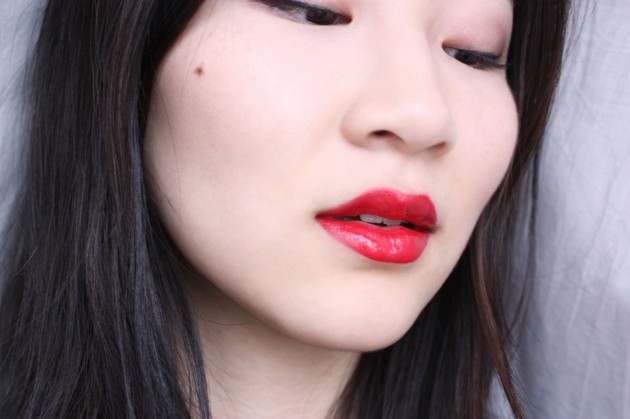 Above: wearing Bite Pomegranate & Stila Brown Sugar
Check out more Lipstick Bandit holiday lip looks…
+1 Lipstick Bandit that couldn't join us today because some asshole stole her computer: Dani, who writes call it beauty. Go give her blog some love, ya hear? I'm CRAZY about her eye looks (all lovingly archived), and I promise her blog won't disappoint!
(In other news, I'm still trying and failing to keep theNotice at a nice, docile, PG-13 rating. It's an uphill battle. On a vertical mountain cliff covered in ice. With attacking pterodactyls.)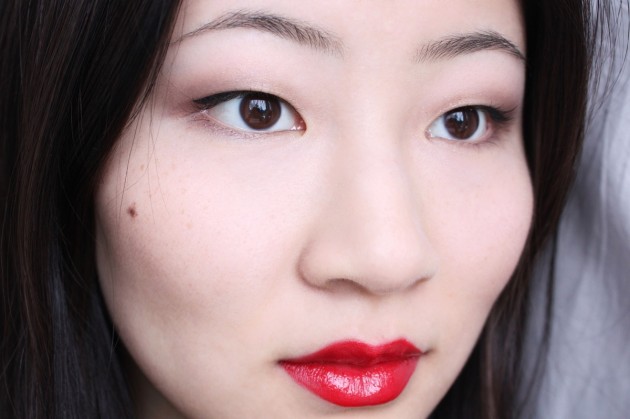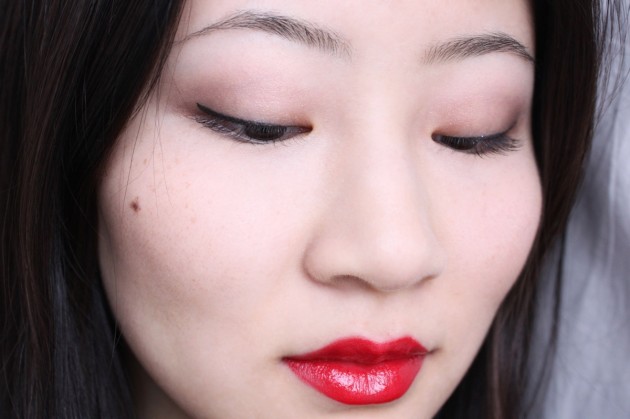 Products used
EYES: Clarins Smokey Passion Wet & Dry Eye Quartet Mineral Palette, MAC Matte2 Eye Shadow in Blanc Type, Annabelle Liquid Eyeliner in Black Spark, Déjàvu Fiberwig Extra Long Mascara in Black
LIPS: Bite Beauty High Pigment Pencil in Pomegranate, Stila Lip Glaze in Brown Sugar
CHEEKS: Smashbox Matte Eyeshadow in Smoke, Clinique Gradient Powder Blusher in Black Honey
SKIN: Hard Candy Glamoflauge Concealer in Light, Marcelle Face Powder in Translucent
One last shot of the finished lip…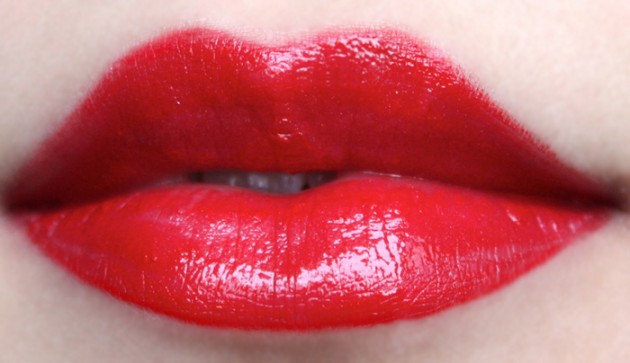 —
And that's all for today, folks! Sorry for the obscene number of photos. And the surprise!pterodactyl reference, which I'm convinced is equal parts (a) perfection, and (b) inappropriately out of left field.
(Dinosaurs are always relevant; there is no such thing as a prehistoric non sequitur! What are you suggesting.)
Hmm. I wonder if I could make a New Year's resolution having to do with referencing dinosaurs on a weekly basis.
—
Tell me about your holiday breaks in the comments! I want to hear about them! :D