Thursday, October 20, 2011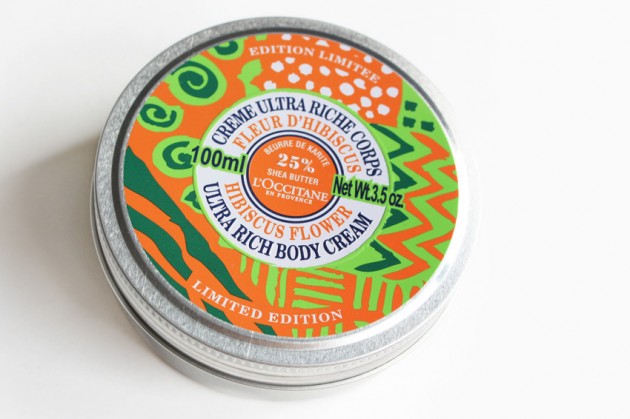 The product: L'Occitane Ultra Rich Body Cream in Hibiscus Flower
It's rather more summery than the weather we've been getting, but I thought I'd share a few photos of one of L'Occitane's current LE products today.
Hibiscus Flower is one of three scents available this October, with packaging designed by Olivier Baussan to represent the Bogolan cloth, a traditional fabric worn by West African women. Along with Cocoa and Desert Rose, the scents (along with the print-like designs) have been crafted to reflect the culture and scents of the region – cocoa flowers from the ivory coast, Egyptian hibiscus, and the Moroccan rose.
The L'Occitane Shea collection gets a lot of press, and it's not just because the products are ridiculously moisturizing. The company, in line with the L'Occitane Foundation's work to aid the economic emancipation of women in Burkina Faso, employs over 12 000 women in a sustainable co-development program under the EFT (ECOCERT Fair Trade) certification.
The ties between L'Occitane and Burkina Faso stretch back over twenty-five years, and include not just the production of shea, but also microcredit programs, entrepreneurial awards, and literacy projects.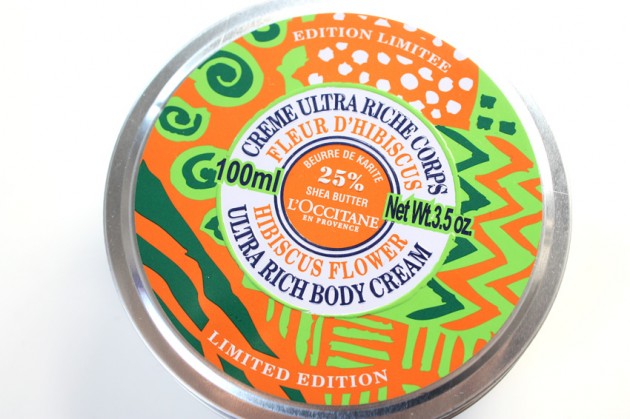 The Hibiscus Flower scent is a little agressive in the jar, but it's surprisingly soft once applied. It's warm, sweet, and a little ethereal – a distinctly tropical sort of floral. It reminds me of a frangipani-and-shea moisturizer I once had, but so, so much better. Other dry-skinned ladies will understand what I mean when I say it's refreshing to find such a comforting moisturizer paired with a light, unrestrained floral: it's such a nice change from the typically heavy scents paired with such rich moisturizers.
Along with the 25% shea body cream, the three scents are available in hand cream and lip balm format. (The hand cream and lip balm contain 20% and 10% shea, respectively.) I'm actually quite taken with the look of the lip balm – they're adorable!