colour
Fall is coming; fall is coming! Alert the presses!
Somehow, I always forget that autumn… exists. Every single year. I dread summer, and then I adore it, and then I dread it again as soon as the mercury hits twenty-five, and then I adore it until, one day, I realize that fall is on its way.
And then I'm torn. Because as much as I hate the summer heat, I love the lazy days and the constant sunlight. I love being able to take photos (almost) whenever the feeling grips me. I love the late nights and the almost non-existant mornings and the smells; the way the air smells in the summer.
But damn – I don't think anything will ever be able to eclipse my love for Fall/Winter collections.

skin, base, and fragrance
And a few more things
The similarities between the two quads below are really getting to me! I mean, they're not actually all that similar, but for whatever reason, my brain's just gotten stuck in a rut around them.
The first one is Guerlain's Écrin 4 Couleurs palette in Les Noirs (and what gorgeous blacks they are), and the second is my beloved Clarins Graphites.
And then we've got a but of a curious thing; paper lashes. I'm sure you've heard about them by now, but I never really expected them to go mass, you know?
Sephora is now carrying six equally weird charming styles of PAPERSELF lashes, online and at their NYC Meatpacking District store (which opens mid-September). They're quite a costly lash, at $17, (and I somehow doubt you'll get the same wear out of these as you would out of a regular false lash fringe), but I suppose it's the novelty!
& finally, I'll leave you with a quick pic of Ultraflesh's Ninja Star Compact, which I think is a little bit insane and a little bit hilarious: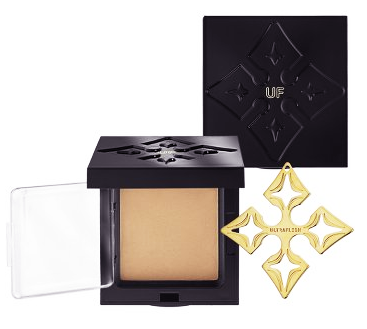 all images are (c) their click-through.