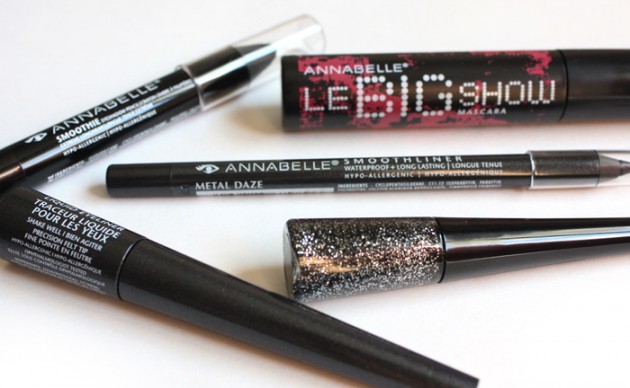 Happy Saturday, lovelies! I just wanted to wrap-up our Black Box week & share a few more swatches with you all. Hope you enjoyed the series, and please feel free to leave any additional thoughts you may have in the comments!
To be honest, I kinda liked writing up everything for this week – it was a bit hectic and a bit crazy, seeing as I did most of it in the span of three or four days in addition to writing up posts for those days, but I don't know. I guess I liked the coherency of it all? I kinda want to do it again, but of course, with a different focus next time ;)
(I'm thinking, maybe, MAC Pigments? Or a week of different makeup looks. Ooh, or perhaps Clinique's Black Honey seasonal collection…)
Read the reviews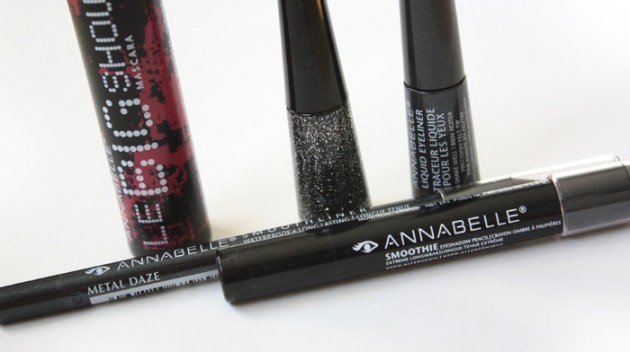 How they stack up
One particularly awesome thing about this collection is that, though they're all more or less black, there's no redundancy in the products. They're all different in shade, application, portability, texture, finish, purpose – I think it's a bit brilliant, to be honest.
But then again, I'm easily amused.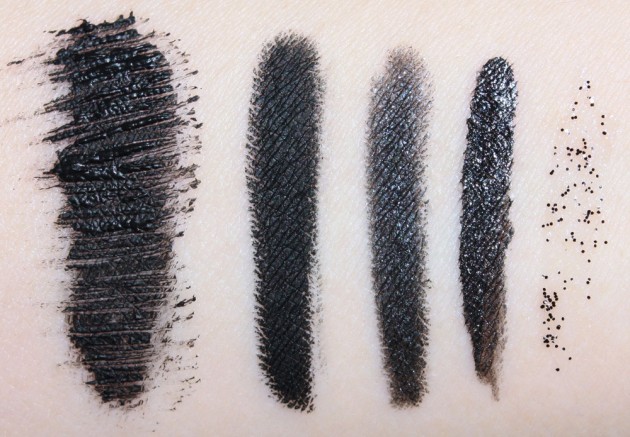 Annabelle Black Box swatches, L-R: Le BIG Show mascara, Licoriche Smoothie, Metal Daze Smoothliner, Black Spark Liquid Eyeliner, Blast Off Glitterama Eyeliner.
Direct sunlight, no flash.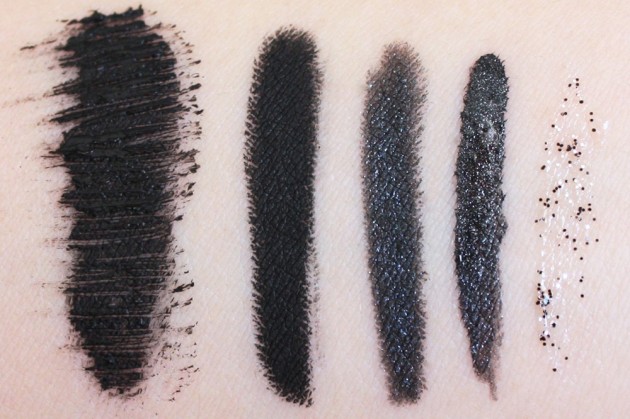 L-R: Le BIG Show, Licoriche, Metal Daze, Black Spark, Blast Off.
Indirect sunlight, no flash.
Recommendations
Try Le BIG Show if you're looking for a lot of volume, an intensely black lash, or a glossy finish, but not necessarily lengthening or curling.
Try Licoriche if you're looking for a super-blendable, super-black base or a really opaque waterline. It layers well, too, so you can get anything from a subtle, hazy shadow around your lashes to a dramatic smokey eye.
Try Metal Daze if you're looking for a light black/dark gunmetal eyeliner to create a sharp or smokey line. The shimmer in this one adds a bit of interest to what would otherwise be another basic black, and it gives a softer, more ethereal effect.
Try Black Spark if you're looking for a longwearing, budgeproof, easy-to-use, black-but-better liquid liner.
Try Blast Off if you're looking to add some shine and glitter to a liner you already have. (Because of the translucent base in Glitterama liners, they're even prettier when layered over a "regular" liner!)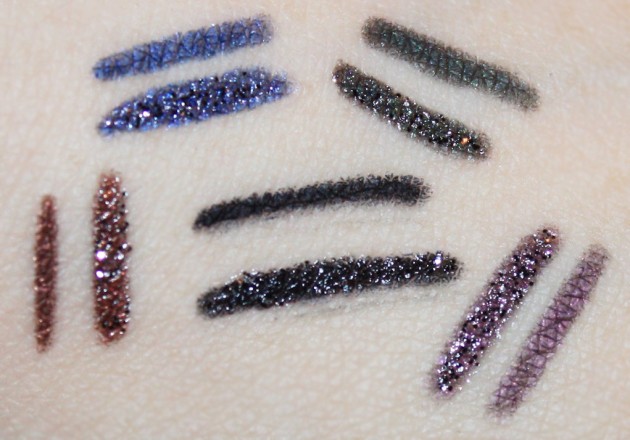 Blast Off layered over MAC Teddy (far left), Marcelle Indigo (top left), Marcelle Metal Green (top right), Marcelle Mulberry (bottom right), and Annabelle Licoriche (middle).
Lit almost entirely with flash, sorry!
There's very little reason for yet more photos of Blast Off!, but can I just – one more? Two? Just to show it off a little closer up.
I just – I can't – there's just so much texture!