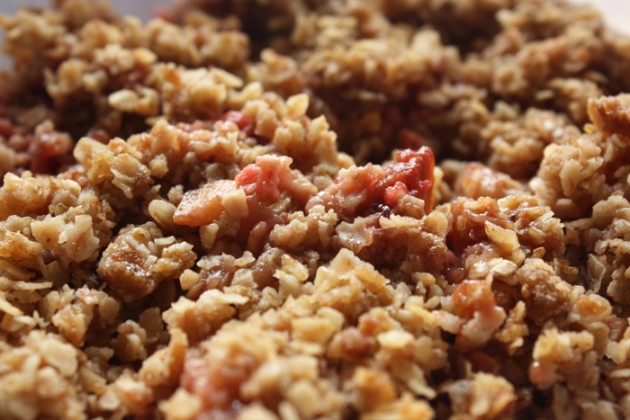 Mix in a medium bowl:
3T flour (if gluten-free: use any mild flours. Rice, brown rice, or sorghum would be my choices.)

1t cinnamon

Dash of nutmeg

1/c brown sugar, packed

1/c butter or margarine

2 1/2c oats
Combine in the bottom of an un-greased 9×13 casserole dish:
5c rhubarb (cleaned and cubed)

2c strawberries (fresh or frozen; no need to thaw. Also sliced.)

1/c brown sugar, loosely packed

1T cornstarch

2T lemon juice
Sprinkle oatmeal mixture on top, leaving a 1-2″ perimeter for the fruit to boil and bubble and just generally be awesome. Bake at 350F/175C for about a half hour, until golden-brown.
Serve warm or cold (at which point it will essentially taste like heavenly baked oatmeal doused in jam). Pairs well with plain yogourt, and probably ice cream or whipping cream if you have a major sweet tooth. Serves four, but should probably serve eight or more if you're halfway sane, and stores well in the fridge or freezer.