The sun finally came out of hiding for a couple hours, so I've finally been able to take photographs of my most recent obsession. Nope, it's not blush, and it's not lipgloss or sunscreen…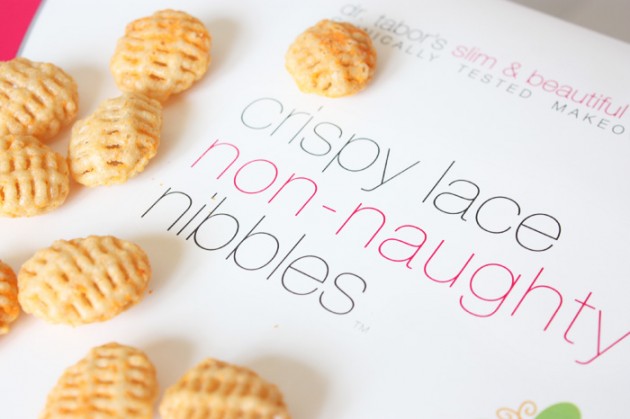 The product: Dr. Tabor Crispy Lace Non-Naughty Nibbles
Why they're awesome: I'm currently hooked on these because they're super lightweight (which makes them easy to throw in my bag & carry around), but they're still tasty and surprisingly filling – more filling than a basic 'ol granola bar, even! Not to mention, they're better for you than a lot of granola bars are: there's about three grams of fat in each bag, two grams of fibre, and seven (!) grams of protein.
Some of the reviews I've read mention that they're not very flavourful, but I actually beg to differ – I've tried three or four of the flavours already, and all of them have been quite flavourful, if you ask me! But, I suppose, it's worth noting that I have like, the most bland palette ever :P
But you're not on a diet: Yes and no. I've never gone on a diet to lose weight, and I don't ever plan to (I love food way too much!) but I am on a gluten-free, caffeine-free, low-dairy, low-sugar diet. I know, it can get pretty crazy, but I'm lactose intolerant & things like gluten and sugar really aggravate my fibromyalgia.
My dietary restrictions mean that it can be pretty hard to find food that I can eat on the go, which is why these are perfect: one little bag of Non-Naughty Nibbles can tide me over from breakfast to a late lunch (think an 8 AM breakfast, then lunch around one or two), and I'm more than happy to prevent a mid-afternoon blood sugar crash by eating a bag of tasty treats! :D
P.S. Have you heard of Sensa? It's a unique weight loss tool that's designed to reduce caloric intake, making the food you're already eating even more diet-friendly. And yep, it's gluten-free, too ;)