So I really did enjoy yesterday night's strawberry-rhubarb crumble, but then I woke up this morning with an obsessive need to use up the rhubarb from the backyard, and I don't like my baked goods nearly as sweet as my sister does…
Anyhow. Here's another recipe to try, and I promise, it's deliciously tart.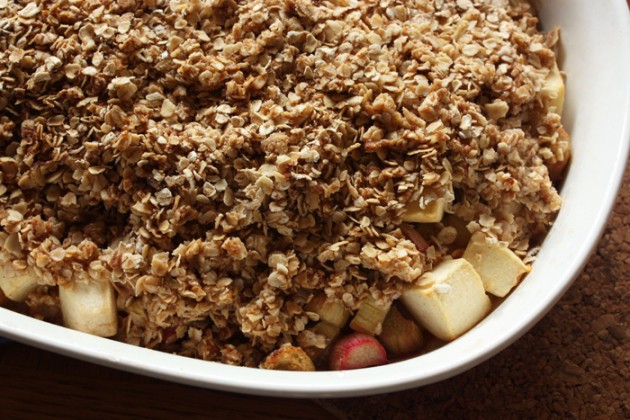 Cut in a medium bowl with a pastry blender (alternately, give up halfway through and mix with your hands) –
2c oats

1t cinnamon

dash of nutmeg

1/4c butter

1/3c brown sugar

2T flour (I used 1T rice flour, 1 sorghum flour, but any would do)
Mix in the bottom of a baking dish (anything between a 9×9 square and a 9×13 rectangle would work; I went with an oval one that looked to be approximately 8×11?) –
1 large apple (washed, peeled, pitted, and cubed)

3c rhubarb (washed and chopped)

1t cinnamon

dash of nutmeg

1/4c brown sugar, packed very loosely

1T cornstarch

1T lemon juice
Sprinkle the oat mixture on top of the fruit, bake for about a half-hour at 375F/180C.
Consume immediately and in disturbing amounts. Store in fridge or freezer.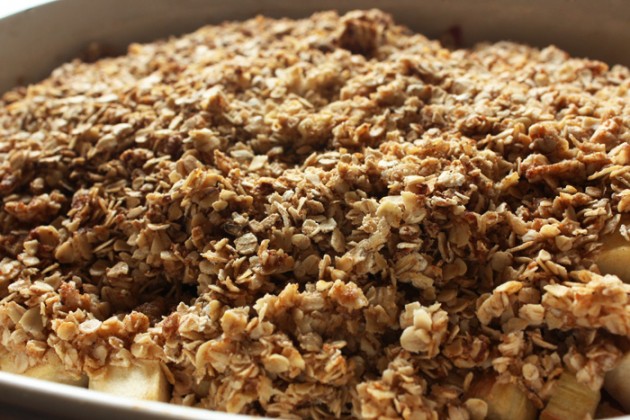 I should probably mention that I didn't measure out anything aside from the oats for this one, though.
For a more "normal" crumble (because, let's face it, this is a weird crisp confection and really only appropriate if you have a disturbing love for the tartness of rhubarb) try these alterations to the recipe:
1/3c brown sugar, packed, instead of 1/4c loose (in the fruit) –> for a sweeter crumble

2 apples and 3c cubed rhubarb (instead of 1 and 3c), or 1 apple, 1c cubed strawberries, and 3c cubed rhubarb –> for a sweeter crumble with a more reasonable fruit-to-crumble ratio

A bake time of 45-55 min –> for softer fruit; I like my apples to have texture (and rather a lot of it)
Have fun in the kitchen, darlings ;) I really need to stop posting when my blood sugar's all awry…