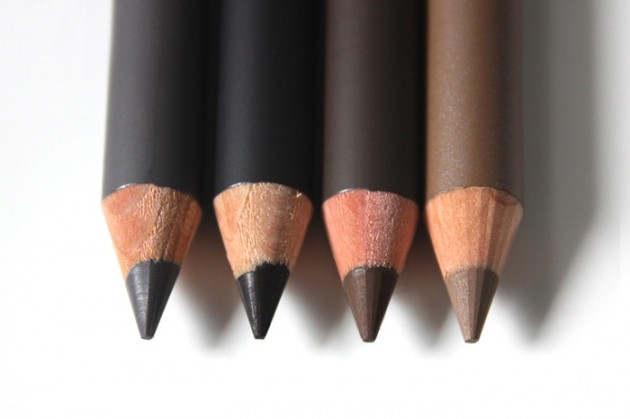 I'll be the first to admit that I'm not much of a brow girl. I mean, it's not that I don't like them, and I do think that brows are vital to completing a look… but honestly? I just can't be bothered to do them on a daily basis. I like my morning routine to be as short as humanly possible, and they've never really been a priority for me. Perhaps if mine were more sparse, but as it is, they're left mainly unattended to.
I have, however, noticed that there are a lot of options when it comes to brows, and it kinda got me thinking. What do you reach for in the mornings? Do you do your brows every day? I know you're all busy busy bees, but if you have a moment, I'd love to hear your thoughts on brows in the comments :)
Personally, I tend to prefer matte, fairly sheer brow powders, when I do use them. (I've actually been using a matte grey eyeshadow recently, but shh, don't tell!) Pencils are definitely easier to travel with and touch up on the go, though, so I suppose that's worth taking into consideration.
The only brow products I can't see myself using? Tinted gels and liquids – the former because I'd rather fill in sparse bits than "plump up" each hair, and the latter because… well, actually, I  haven't really a good answer for that one. It's mainly just that I don't like any harsh lines in my brow area, and it's a little harder to shade with a felt tip than it is with a powder or pencil!
The product: Marcelle Accent Eyebrow Crayons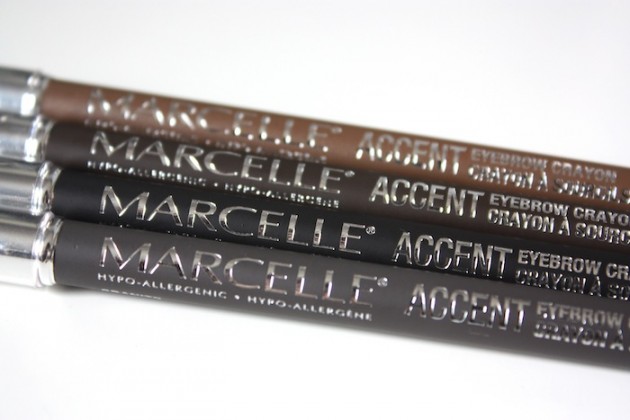 The texture: These are quite different from the products I tend to reach for, which is why I started thinking about all of this in the first place. They're surprisingly soft, softer even than some of the eyeliners I've tried, and really creamy upon application, though they do set after some time. (I have to remember to be light-handed with these; they're definitely more intense than the powders I'm used to!)
With a bit of tweaking to my technique, though, these make the jump from a solid B- to an A. It's easy to smudge them down into a whisper of colour, and the wear is quite impressive – I still have faint lines on my arm from yesterday's swatching, despite plenty of makeup remover and scrubbing!
TIP: When working with soft or very pigmented brow products, I find it helpful to use super-light strokes to fill in the brow area. Then, smudge with a q-tip right after application (before the product sets), and finally, pull a spoolie through your brows to groom each hair into position.
The shades: The Accent pencils come in four shades, and I think Marcelle have done quite a good blending them. I use the grey, as I do with most brow products, and I've been really happy with how natural it looks. (Erm, random additional tip, I guess: if you have almost-black or black-hair and a cool complexion, give the grey a try!)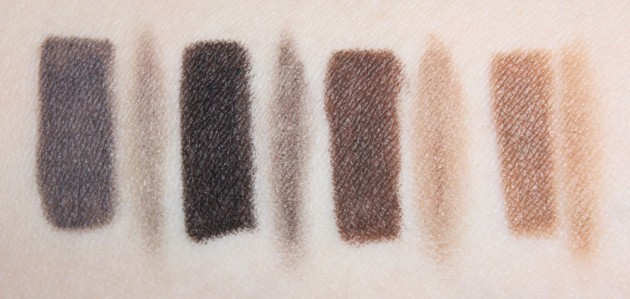 Swatches, L-R: Granite, Luscious Black, Brun Tendre, Blondine
The verdict?
Whether or not I'd recommend these depends entirely on your preference. Personally, I prefer a harder pencil (twist-up, if possible) or a powder product, so I'd pass on these. If you do like creamy brow pencils, though? Then these are awesome. They're deliciously creamy, intensely pigmented, well-priced ($9.95 for 1.05g), and silicone- and paraben-free (because, dude, brow breakouts? Not attractive.)
Anyhow. Hit me up in the comments with your brow ramblings – I've rambled on far too long already!