Janice, one of our lovely readers, emailed me asking for a comparison between MUFE F&B and 100% Pure's tinted moisturizer. As usual, I went totally overboard with my reply (hello, product junkie; what did you expect?) so my brief email has morphed into a full-on post, complete with photos.
Self-control is totally overrated.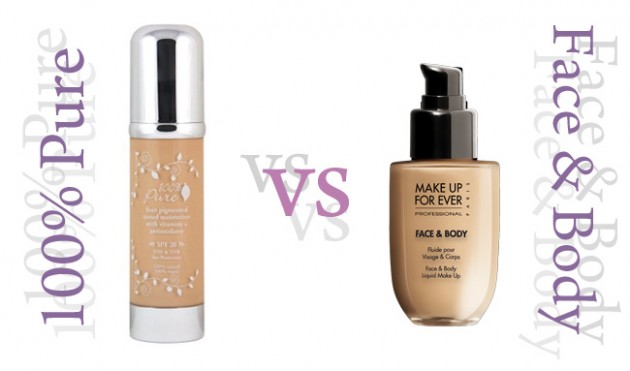 Texture and scent
The products themselves, in their respective containers, are remarkably different: Make Up For Ever Face & Body has a very distinctive, gel-like texture (think "runny jello"), while the 100% Pure Fruit Pigmented Tinted Moisturizer SPF 20 looks like any other boring moisturizer.
Personally, I think the weird texture of the MUFE is completely enthralling, but the product has one major drawback – a rather strong, artificial fragrance. I'm not a fan of scented products, especially not ones this strongly perfumed, so I'd definitely say it's something to take into consideration.
MUFE F&B #38 (Pink Porcelain) in a sample jar, on its side – check out that texture!
Finish and feel
Face & Body has a more satiny finish than the 100% Pure, and sits on the skin just a tiny bit more. Which, I mean… I actually prefer it; I've always had a soft spot for foundations with a satin finish.
On the other hand, the tinted moisturizer is just that – an awesomely tinted moisturizer. That is, it sinks in to leave absolutely no powdery or foundation-y bits behind. While both the MUFE and 100% Pure look completely natural, the 100% Pure is flawless even under magnification, unlike the MUFE, so I suppose it just depends on what you're going for!
For these reasons, I'd recommend the finish of the MUFE for normal to oily skintypes, and the 100% Pure for very dry to normal skins. (If in doubt, a touch of powder in the t-zone sets the tinted moisturizer beautifully, and I don't find myself getting abnormally oily or anything during the day.)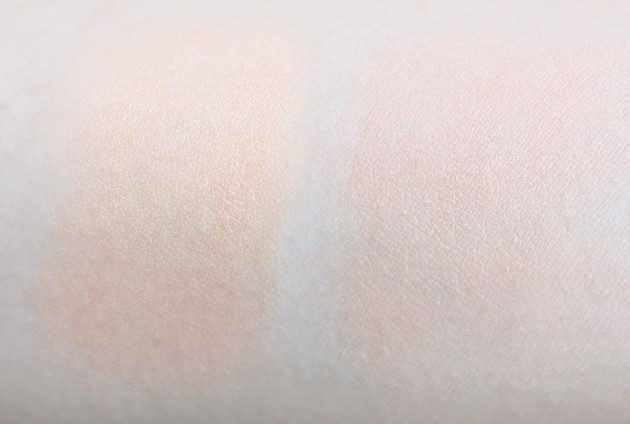 100% Pure TM in Creme / MUFE F&B #38
indirect (very overcast) sunlight without flash; click to enlarge
Colours and coverage
For both of these, I prefer the MUFE: it has a more flexible coverage and comes in sixteen shades, as compared to 100% Pure's seven shades and sheer finish. Both can be layered, and niether do that icky balling-up thing when you do so (which is usually the fault of heavy silicones, like dimethicone and methicone) but the MUFE can definitely be layered more – I'd say that F&B can give you sheer to medium coverage, whereas the tinted moisturizer gives more along the lines of very sheer to medium-sheer.
(For clarification, though: I don't think the seven shades are holding 100% Pure back at all! Because it's more sheer to begin with, there really isn't a need for any more shades.)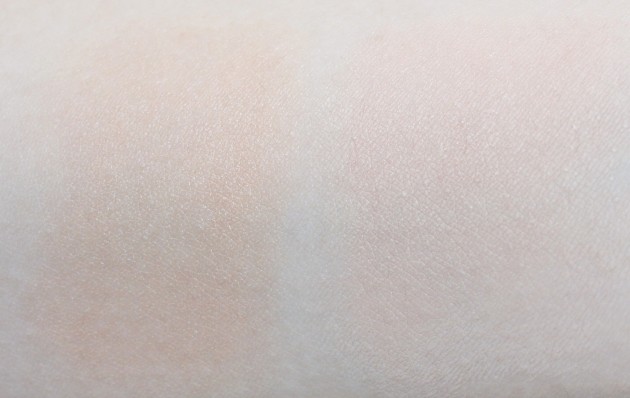 100% Pure TM in Créme / MUFE F&B #38
flash support in indirect (very overcast) sunlight; click to enlarge
Availability and ingredients
Depending on your country, availability will probably vary; Face & Body can be found in Sephora and at MUFE counters, while 100% Pure is usually only stocked in beauty or organic boutiques. Price-wise, they're very similar, with the MUFE coming in just a bit cheaper: in Canada, the MUFE is $42 for 1.69oz, vs. $41 for 1.8oz of the 100% Pure.
It's the ingredients that get me, though; F&B contains fragrances, parabens, and silicones (so I can't use it), while 100% Pure's moisturizer is free of all the above. Plus, the latter comes with an added SPF 20, which is always a good thing to have around!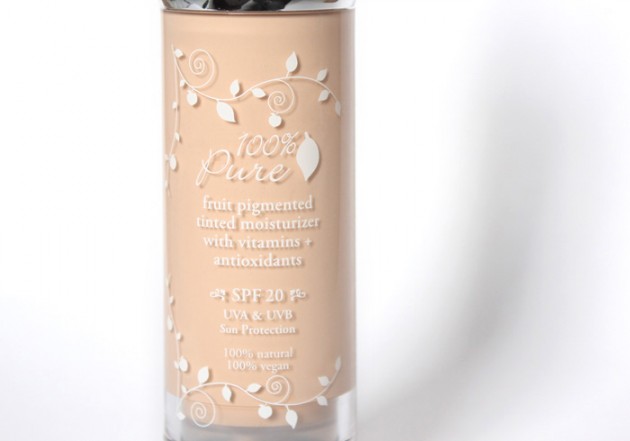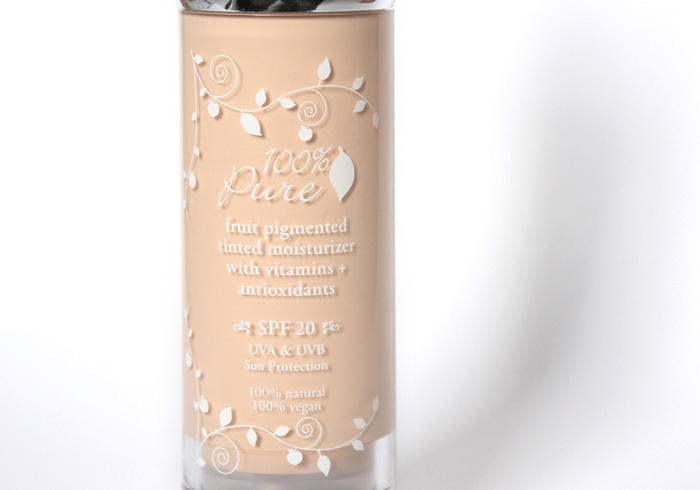 100% Pure Fruit Pigmented Tinted Moisturizer in Créme
Overall…
All in all, I do prefer the MUFE Face & Body foundation – but 100% Pure's Tinted Moisturizer is one heck of a product, too!
If your skin can tolerate silicones and your nose can tolerate scents, I would opt for the F&B due to its satin finish and additional coverage. If not, then the 100% Pure is a fabulous choice if you're looking for a TM to even out your skintone, particularly if you have a drier complexion.