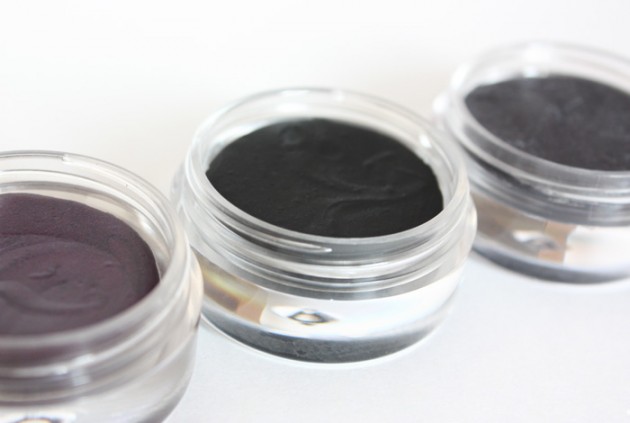 The product: FaceFront Cyber Gel gel liner/cream shadow duos
The texture: These are really, really soft – softer than any other gel liner or potted cream shadow I've ever tried before. I'd go so far as to say that these are practically whipped; the consistency is definitely unique and interesting to work with! These set quite quickly, though, giving you a working time of under ten seconds before the product sort of "locks down," which makes using them a bit difficult.
The wear: It varies from shade to shade (and I'll add detail in the individual shade reviews,) but I'm impressed! While these are hard to get on to begin with, once they're on, they're pretty much good to go. Perhaps because of their strange texture, they wear really well on my waterline in particular – not perfect, but so far, better than anything else I've tried!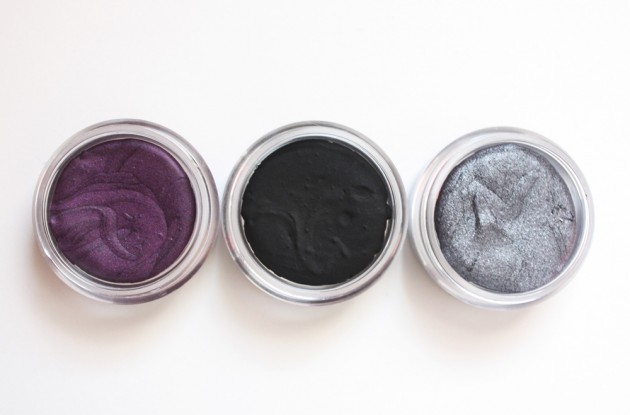 The ingredients:
Hydrogenated Polyisobutene, Butylene Copolymer, Orchid Oil, Grape Seed Oil, Apricot Oil, Beeswax, Vitamin E Oil. +/- some micas and oxides and such; full list here.
A few more thoughts…
These have a seriously weird scent to them – it reminds me almost exactly of the synthetic orange of e.l.f.'s lipglosses. I'm guessing it's the "orchid oil," but I'm seriously not a fan! It sort of squicks me out to be putting something so scented in my eye area, and while the scent does fade quite quickly… it's just weird.
I also like the format of these: $9.50 for 2.2g is a great deal, and (unlike most potted creams,) they're really lightweight, so I don't feel guilty throwing one onto my handbag.


L-R: swatches of Visionary Violet, Black Jax, and Magnetica (under two different lighting conditions)
The verdict?
These are weird enough that I don't want to give a set-in-stone verdict quite yet… but I will say that I really like these so far! All three shades are just gorgeous, the packaging's cute, and I'm already considering buying backups based solely on how well they hold up on my waterline (which says a lot; I almost never buy backups.)
I'd love to see a slight reformulation to give us a little more working time and take out the scent, but aside from that? Awesome stuff :)
NOTE: Shade descriptions, variances on the formulas, and final "verdicts" will be covered in upcoming (short) individual shade reviews, so stay tuned!