What they are: FaceFront Cosmetics' Rocket Bronzer in Third Kiss and Color Volume Blush in Re-Write Pink, both from the Spring/Summer 2011 Ouro Fino collection.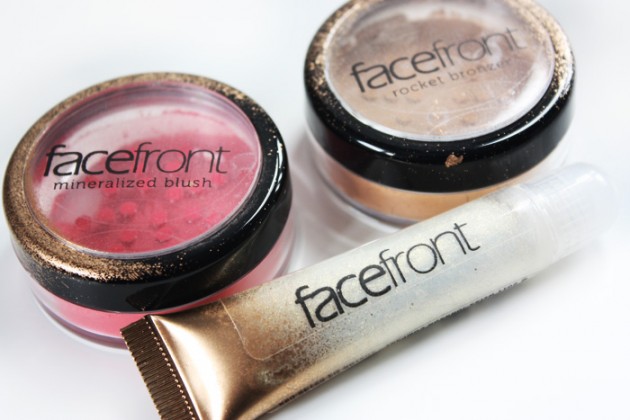 Third Kiss: I haven't yet tested this as much as I'd like to (not really a bronzer-in-the-winter kind of gal), but I'd say the company's description of this as a  "subtle golden tan infused with 24K Peruvian gold nano-particles" is pretty spot-on. The shimmer is finely milled and the shade itself isn't too orange or muddy, though it is perhaps a tiny bit more yellow than I'd prefer. On the whole, though, it's nice and neutral, and best for light/med skintones.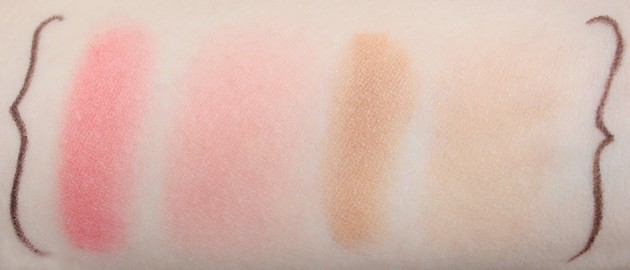 L-R: re-write pink (heavy/light), third kiss (heavy/light)
Re-Write Pink: Brace yourselves, because I am absolutely in love with this shade! It's the perfect balance between warm and cold, between coral and magenta… honestly, just gorgeous. It's very pigmented, so it can create quite a strong cheek, but it's not hard to blend Re-Write Pink down to a smooth, natural flush. I can see the fine shimmer in the pot, but once applied, I really don't notice any  shimmer or glitter.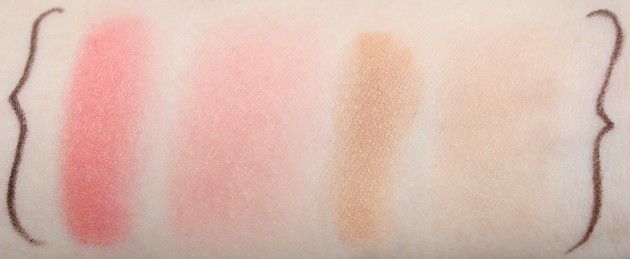 & slightly different lighting/focus…
The verdict? I like Third Kiss, but I LOVE Re-Write Pink. Both are limited-edition, so please, please, please, check out the blusher before it's too late! The two are $17.50 and $15.00 respectively, but there's nine grams of product in there. Compare that to the 0.85g of product in B.E.'s blushers (which for the record are $18USD), and you've got —
a really awesome product for a really awesome price. And if you want any more details you'll have to go figure them out for yourself because I'm refusing to do math today!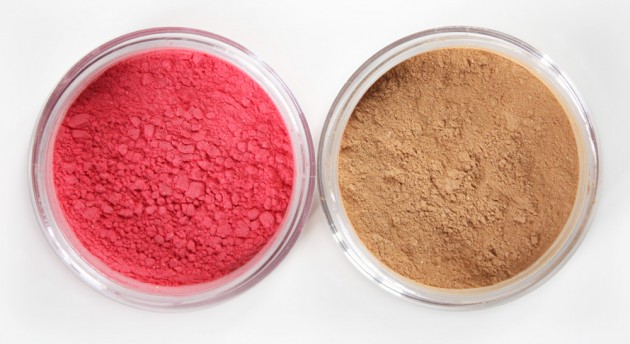 More Ouro Fino…