What they are: FaceFront Cosmetics Artistic Pigments in Shadow Keeper, Retro-Robotic Violeta (how much do you love that name??!), Nylon Garden, and Amarela.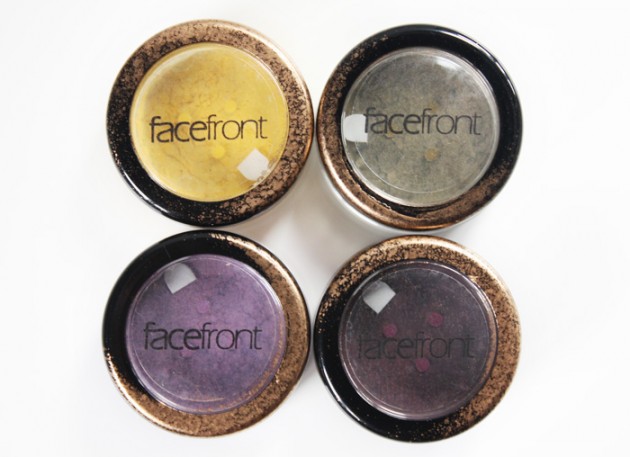 About the brand: I've read a few negative commentaries about FaceFront's business practices, and I just wanted to say a few things before starting the review. Firstly, I am not trying to disregard the opinions of bloggers who have had issues with the brand in the past. With any brand, each person's experiences will vary, and at all times, I'm simply trying to express my own – that's all any of us really can do!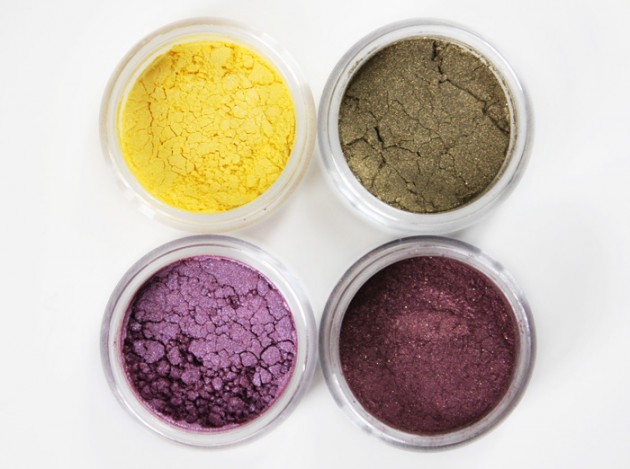 Personally, I think FaceFront has a lot to offer. The products that I've tried so far are stellar, I love the packaging, and all communication that I've had with the brand has been A+. If this changes, I will let you know the second it does, but until then, everything honestly does seem to be on the up and up since the line has come under new ownership!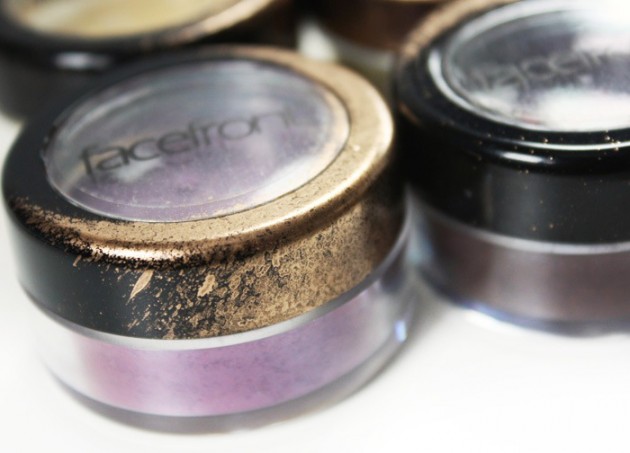 The shades:
Amarela

: hello, yellow! Amarela is a super-vivid matte yellow with a few shimmer particles worked in… if that makes any sense at all. I love it. I love it I love it I love it.

Nylon Garden

: okay, the photo of this on the FaceFront website is 

completely

off, so trust our photos instead ;) I've honestly never seen anything like this; it's gold, it's yellow, it's green… it's gorgeous. Gorgeous.

Retro-Robotic Violeta

: a bright red-violet that can flash a little cool for that extra "oomph."

Shadow Keeper

: imagine if Korres Plum had a blackened base, rather than a browned one. That's what this would be. They call it a "deep, sophisticated amethyst;" I call it lovely. The best part is that we can both be right about this one.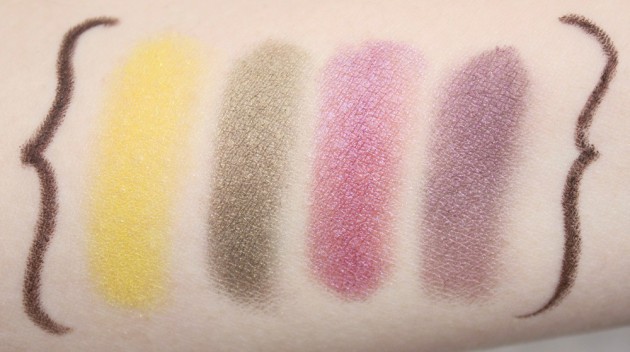 Swatched dry, no base; indirect sunlight.
A few more fun facts: Not only are these paraben-, silicone-, bismuth-, and scent-free, they're also cruelty-free, approved for use all over the face (not just the lids), and vegan. Plus, as if that wasn't already enough, they're made in the USA and contain a whopping 5g of product for $15.50!
(For comparison's sake, MAC shadows contain 1.5 g for $17.50 CAD, and their pigments contain 4.5 g for $23.50 CAD).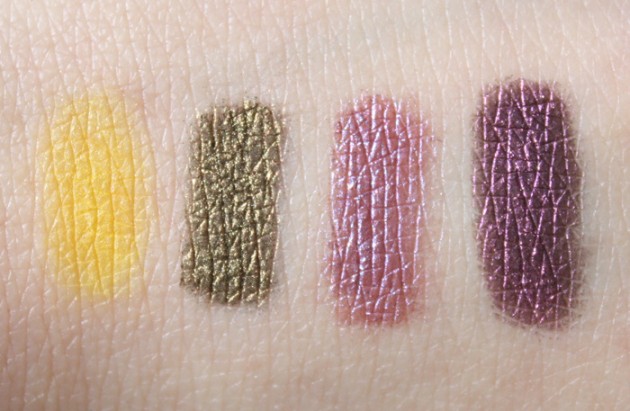 Swatched wet, no base; indirect sunlight.
The verdict? Despite the mid-range price and loose-powder form, I think these are 110% worthwhile. In over three years of beauty blogging (!!!) I've seen a lot of different colours and trends, but these managed to surprise me with their pigmentation and shade intricacy – something a collection hasn't done in a very, very long time. If we had a theNotice™ seal of approval, these would get it.
(But we don't.)
(But we should.)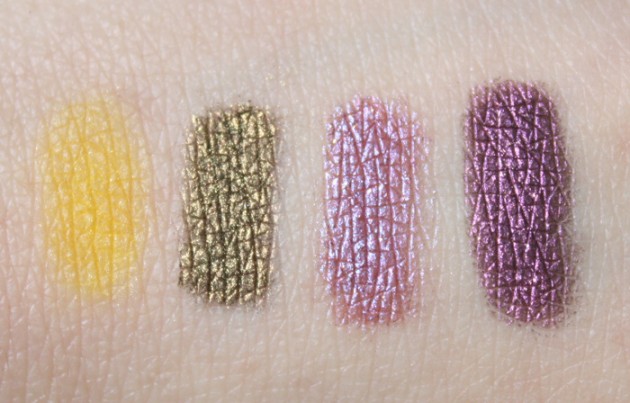 Swatched wet, no base; different angle.
P.S. I'm not finished cutting the photos for the cheek and lip products yet, but I'll have them up soon! They're pretty fab, too ;) Oh, and be sure to check back tomorrow for an Ouro Fino EOTD.