Marcelle recently added nine shades to their Rouge Xpression line, but it's not the increased shade range that has me excited (though, I mean, it's pretty awesome). What really caught my attention is the fact that with each new launch, the line has been improved upon and slightly reformulated.
When the first few shades were launched, I was heartbroken – Marcelle's Rouge Vitality lipsticks are some of my favourites, and the Rouge Xpressions that I tried just didn't live up to those standards. They were good lipsticks, for sure, but there were a number of things that I couldn't get over. The "cream" finishes had chunks of sparkle in them, the darker shades slid around… I still would have chosen them over a L'Oreal Color Riche or Rimmel Moisture Extreme, but I just didn't love them.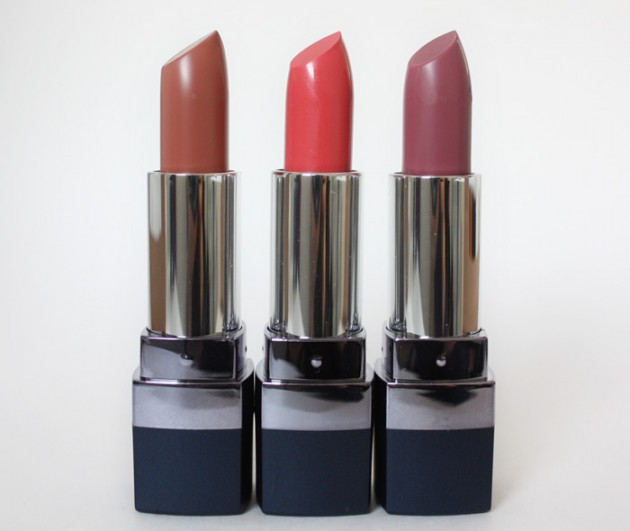 L-R: 702 Attitude, 804 Paris Rose, 853 Jezebel. All cream finishes.
Then, during the winter, Marcelle put out another two shades with the Trend collection. I still wasn't in love, but I do admit they got better. Both shades were true cream finishes, nary a sparkle in sight, and they slipped around a lot less on my lips. They were a bit dry, though – the texture could be described as velvety, and it wasn't a bad thing per se, but they still weren't quite right.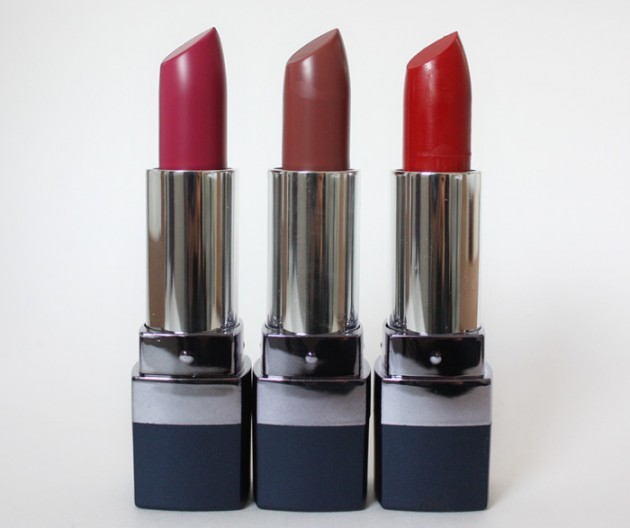 L-R: 855 Cleopatra, 856 Mauve Avant-Garde, 901 Amour. All cream finishes.
This time around, though, I really think Marcelle is onto something. Of the nine new shades (well, new being the operative word here), six are creams and three are pearls – and the finishes are all fantastic. The creams aren't dry the way the Trend lipsticks are, and they aren't hiding enemies of the state shimmer or glitter. The pearls are impressive, too, with finely-milled shimmer rather than chunks of glitter.
L-R: 752 Couture, 803 Romanesque, 854 Féline. All pearl finishes.
Anyhow, I just wanted to express my extreme love for Marcelle share my thoughts on these. I'm really impressed that Marcelle has been tweaking their formula to respond to the consumer, and I love the new shades! Now, if only the online swatches were a bit more accurate… ;)
The verdict? Yes, yes, yes! If you're looking for a comfortable, highly pigmented lipstick  with a great shade range, look to the Rouge Xpression line. The cherry on top? They're scent- and taste-free, and are free of parabens, minerals oil, and silicones, which means they're great for using as a creme blusher as well.