Thought I'd share a quick bio and Q&A with Kayleen McAdams, the makeup artist behind the Milly for Clinique Pretty in Prints Spring 2011 look. Enjoy!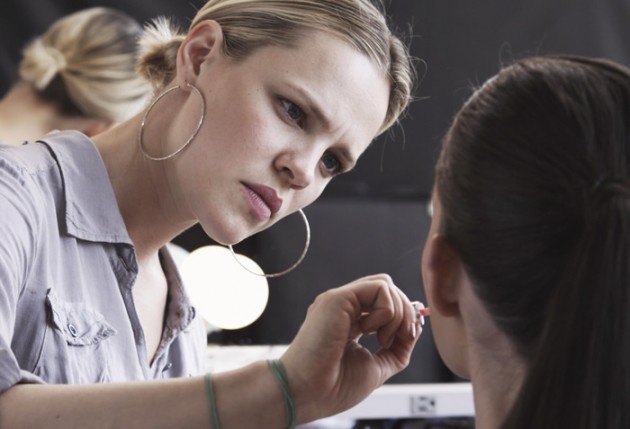 The Bio
Kayleen McAdams' eye for beauty and dedication to the art and technicality of makeup has quickly led to a remarkable career in the beauty industry. Kayleen's signature style focuses on bone structure and natural, clean makeup with an individual color palette to suit the occasion.

Originally planning on a career in psychology, the Canadian born Kayleen studied at the University of Western Ontario. Her time assisting in the beauty department at Flare magazine peaked her interest, but it wasn't until she visited her sister, Rachel McAdams, on the set of The Notebook that she knew she had found her calling. Seeing the makeup artists' work first hand was what inspired Kayleen to pursue a career in makeup.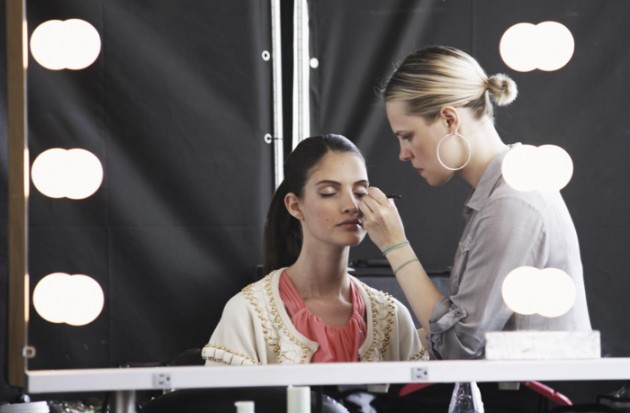 A mini Q&A
Trends to keep an eye out for:
"Something that we will see quite a bit of this spring is a beautiful, bright lip. Think vibrant and fresh – bright pink, an orangey-red, corals, peaches. There are several shades that work for different skin tones so this is a universally wearable trend."
Her favourite item in the collection?

"My absolute favorite item is the blush, Precious Posy. I've loved playing with this shade because it really works for everyone. It's such a beautiful, delicious shade of watermelon pink! Regardless of how light or dark your skin tone is, it's will flatter your complexion and give that extra pop of color."
Her tips on getting a perfect base:

"Always use [concealer] sparingly and only where you need it. So if you have a pimple, use concealer there. If you want to conceal under eye bags, use concealer there.
"If you want more coverage, use foundation as well. The key to applying foundation is to use a good foundation brush. [Hit me up with your fave here!] It ensures you layer on the right amount of coverage so it's not too thick. Try this makeup artist trick – put the foundation on your hand first to help warm it up allowing a more even and smooth application. Then follow with concealer where you need a little more coverage. The end result will be smooth, natural and flawless."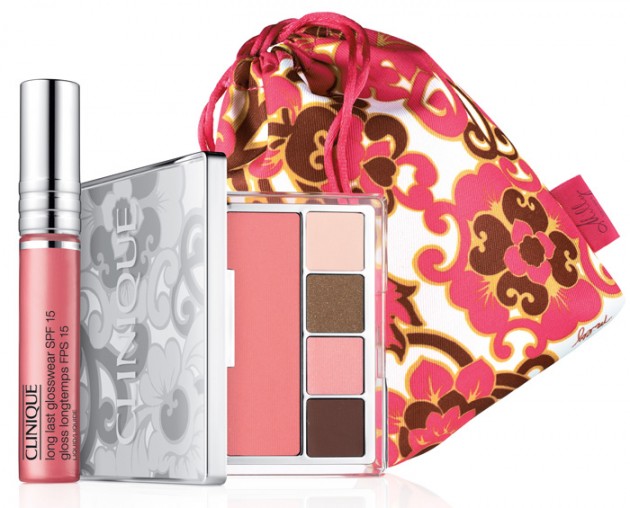 The three-piece Milly for Clinique Pretty in Prints Spring 2011 collection is on counters now and includes:
Long Last Glosswear SPF 15 in

Milly Pink

, a very on-trend sort of… melon-honeysuckle.
Pretty In Prints Compact, which contains a Colour Surge Eye Shadow Quad in

Printed Pinks

and a Blushing Blush in

Precious Posy

, all housed in a super-cute Milly-adorned compact.
High Impact Mascara (perm)
The first two are limited edition for the Spring 2011 season, and the mascara is a permanent item being promoted to compliment the collection. I haven't got the Milly products yet, but I'll try to get reviews and swatches up soon! What do you think of the line so far?