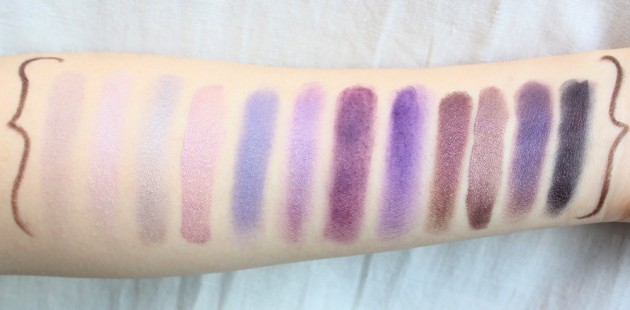 Swatches in indirect sunlight. Order listed below. Click through twice for high-res (1000 px wide) image.
Does anyone know what today is?
Yep… it's the start of winter term, for those of us who haven't already had to go back to that torturous place University. A few more months of trudging two blocks through a foot of snow in under ten minutes. A few more months of hauling five pounds of textbooks (and five pounds of scribblers or a laptop) from building to building. A few more months of profs who may-or-may-not absolutely suck!
Needless to say, I needed some major brightening up this morning – so I thought I'd share some swatches of my favourite violet shadows* (because honestly, is there anything better? I say no.) Hope you enjoy! Spot any old favourites (or new cravings)?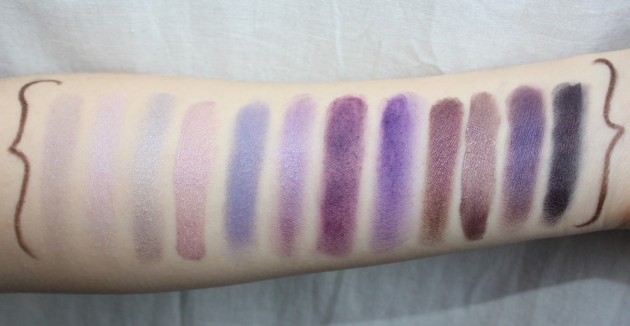 Order listed below. Indirect sunlight with flash support. Click through twice for high-res (1000 px wide) image.
Swatches from left to right: Annabelle Insomnia Domed Eye Shadow Quad, Marcelle Dimensional Mauve Graphic Eyeshadow Quad, Lancome Angora Maquiriche Eye Colour, Laura Geller Orchid Eye Stay Duo, Rimmel Royal Violet Glam'Eyes Eyeshadow, Annabelle Violet Vibe Mineral Eye Dust, Annabelle Ultraviolet Mono Eye Shadow, Make Up For Ever #92 Eyeshadow, Korres Plum Eyeshadow, Laura Geller Lilac Eye Stay Duo, a violet from the huge Flirt! holiday palette, Senna Destiny Sparkling Eye Colour.

Order listed above. Direct sunlight. Click through twice for high-res (1000 px wide) image.
Annabelle Insomnia is an LE quad, but I wanted to swatch its lightest violet shade because it's an interesting one — I didn't like how sheer it is, but it does have a cool multicoloured-glitter thing going on! You can check out the rest of the swatches here.
Marcelle Dimensional Mauve is also LE, but it's my lightest violet so I thought I'd include it as well. Swatches of the rest of the quad here. (The darkest shade is actually a pretty good match for Korres Plum, but reflects more blue-violet than red-brown.)
Lancome Angora is a silvery lavender; very cool.
Laura Geller Orchid is part of a duo (Lilac, swatched 3rd from the end, is the other half). Very pink in comparison!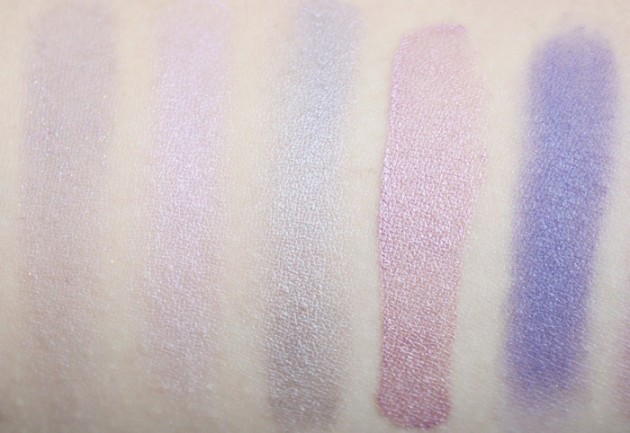 L -> R: Insomnia, Dimensional Mauve, Angora, Orchid, Royal Violet
Rimmel Royal Violet is wonderfully opaque and low shimmer (satin finish), and has a dusty violet feel to it. More on that here.
Annabelle Violet Vibe is one of the more shimmery shades; reflects cold (blue) but has red tones in the base pigmentation which make it quite wearable. Additional info here.
Annabelle Ultraviolet was LE as well (but it's still available in some Shopper's). It goes on a bit patchy, but is incredibly pigmented! This is a plummier, cheaper, less staining alternative to the MUFE (next). Additional swatches of Ultraviolet here.
Make Up For Ever #92 is another super-pigmented matte (that can also go on a bit patchy). I use this one all the time (seriously; no joke!) I can't believe I haven't reviewed it yet.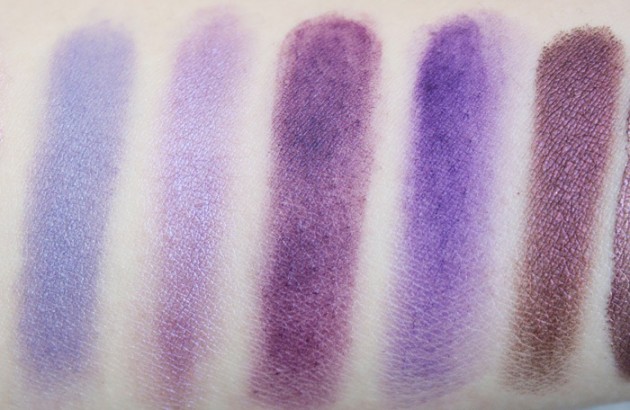 L -> R: Royal Violet, Violet Vibe, Ultraviolet, 92, Plum
Korres Plum is definitely more plum than violet, with its red-brown reflects, but I thought we'd include it all the same. A full review, with more swatches, here.
Laura Geller Lilac is the other half of the Orchid/Lilac duo; similar to Korres Plum but reflects with cool-toned white shimmer (standard) rather than red-brown sheen.
This Flirt! shadow may not be available on its own, but the set (which comes out every Holiday season) is a fantastic deal, and the shadows are all fantastic. This shade's not just a gorgeous blue-violet, but it's also blendable, smooth and pigmented.
Senna Destiny is described on the Senna site as a"blackened royal purple." It's VERY violet in the pan, but is actually a dark blue-black base with violet shimmer. I'm not a huge fan of it (too bold for everyday looks), but it's definitely one of the most interesting violets in my collection!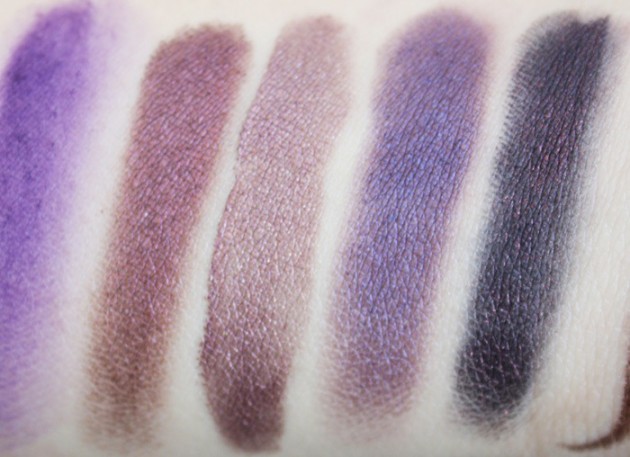 L -> R: half of the 92 swatch, Korres Plum, Lilac, Flirt! shade, Destiny
*The scary part is that I'm not kidding when I say these are just a few of my favourites… I have more. Violet is a really, really unhealthy addiction.