I've posted about a number of these items already, but I thought we'd do a bit of a wrap-up with swatches off the products, blended – each has four shades, but this is what they'd look like worn as one!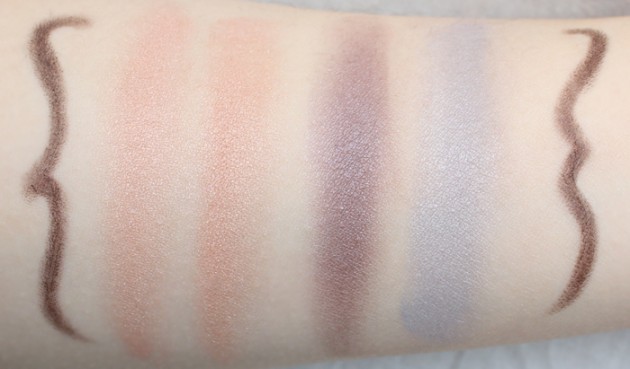 Left to right: Marcelle Graphic Pressed Powder in Prismatic Neutrals (swatched twice), Marcelle Graphic Eyeshadow Quads in Dimensional Mauve and Dimensional Blue.
My favourite product in this collection, by far, was the Dimensional Mauve quad – I just love it! The dark plum reminds me a lot of Korres Plum (but the price tag's a lot better), and the taupe is absolutely stellar.
The Prismatic Neutrals face powder is a gorgeous hilighter on darker skintones, but I find it to be a tiny bit too warm on my complexion when worn as a blusher. (It does make a pretty hilighter, though, when I apply it with a fan brush). I swatched it twice to make sure that the overspray wasn't affecting the colour, and found the two to be fairly consistent. Oh, and I do like that you can make it darker/lighter depending on how much you take from each "section"!
More Trend: