I attempted all day to finish a review for you lovely ladies, but I just couldn't do it. I have been so wiped all day, and I guess my mental functions were just not up to thinking about products!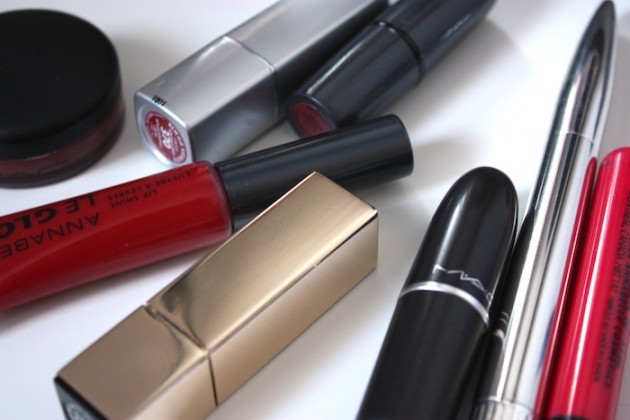 Instead, I figure now's a good time to share some red lipstick and gloss swatches with you. These aren't all the reds in my collection (ack, I have way too many reds) but they're some of the ones I reach for the most often. Which shade's your favourite? :o) Oh, and don't forget that you can enlarge all our photos by clicking on 'em!

From left to right, these lovely reds are: Annabelle Volumelip in Cherryoké, MAC Tinted Lip Conditioner in Plum Perfect, Annabelle Le Gloss in Bitten, Ellis Faas 201, Marcelle Rouge Vitality in Vintage Red, Clarins Rouge Prodige in Barocco, MAC Lipstick in Dubonnet, and Annabelle Rouge Velours in Adrenaline.
I've tried to arrange them in terms of opacity, so the swatches start with the more sheer glosses/balms, then the more pigmented glosses, and finally, the lipsticks. My favourite? Um… if I could pick one, do you really think I'd have this many? :P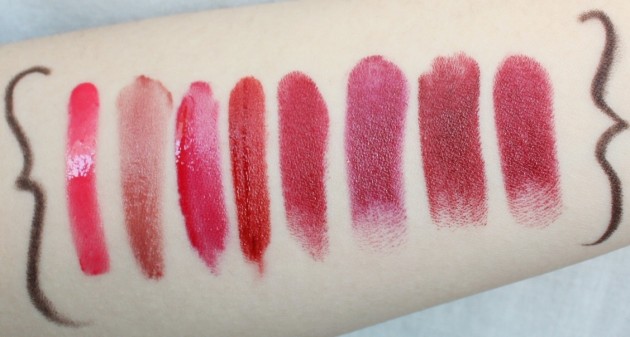 It's still obscenely early, but I think I might try to turn in for the night… or watch some more Fringe. Ugh, let's hope I'm feeling better tomorrow — I still have so much that I want to share with you before the new year! In the meantime, a question: what do you do when you're really tired (but can't sleep)?