Okay, so I've mentioned that these are gorgeous. I know. But I feel like I should say it again: these. are. gorgeous. Seriously; it's a little bit ridiculous. I absolutely adore the aesthetic of the Trend collection, and the products themselves are just… [happy sigh]
What they are: Marcelle Graphic Eye Shadow Quads in Dimensional Blue and Dimensional Mauve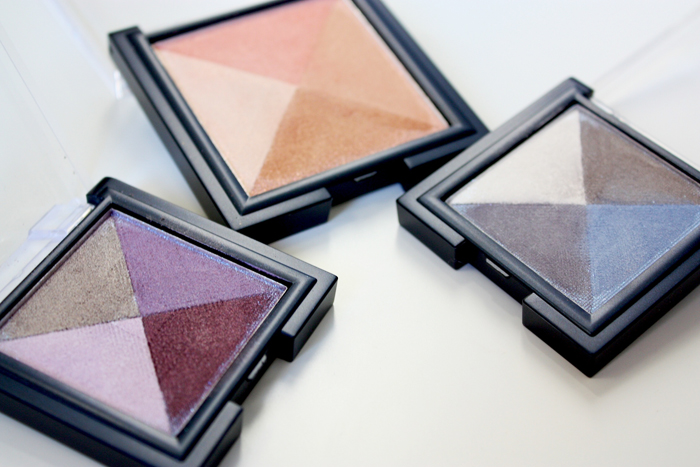 with the lovely blue shimmer overspray taken off
Dimensional Blue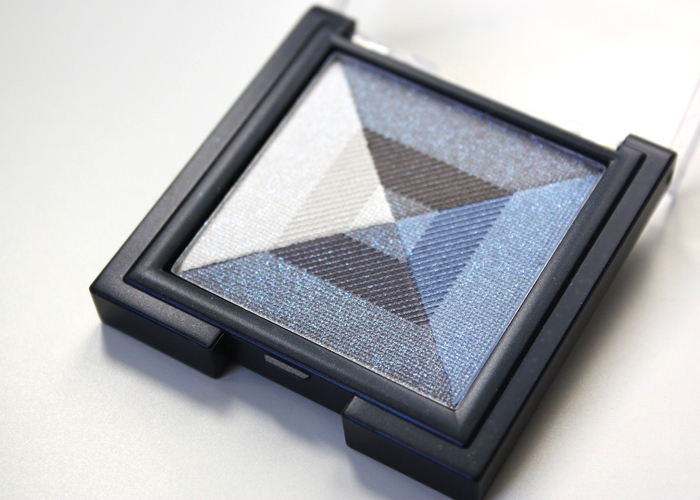 Each quad is made up of four triangles of colour, but I was worried that this would only have three shades — the top and bottom triangles look remarkably similar. I am pleased to report that these are indeed different shades, but unfortunately, that neither strikes me as particularly wonderful. The lower grey pulls violet and its hard texture causes it to stubbornly remain very sheer, while the upper grey pulls more towards a neutral-warm taupe, and goes on with more pigment due to a softer texture. I forgot to take comparison shots of the two swatches while the sun was up, but here is one nonetheless: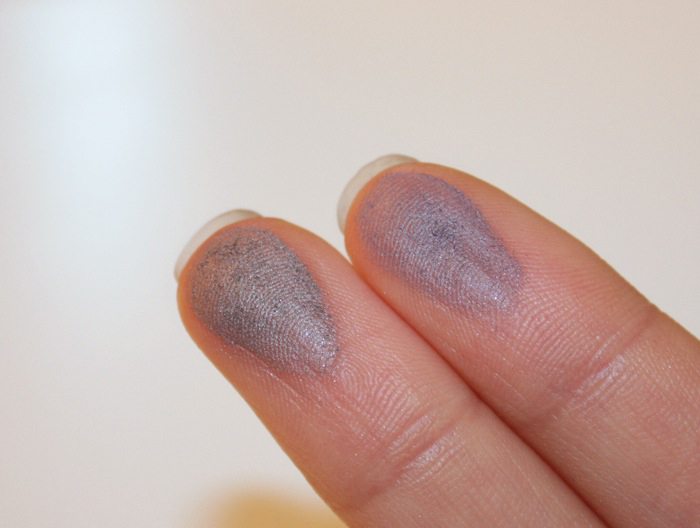 upper grey/lower grey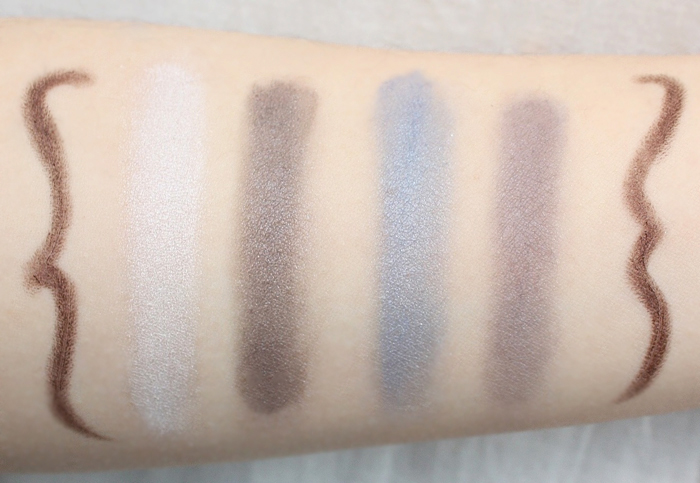 Swatched DRY on bare skin! Shades swatched clockwise starting on the left-hand side.
Surprisingly, the true stunner in this quad is the white: it's insanely soft and easy to blend, with very fine shimmer interspersed in a satiny finish. It's cold, it's smooth, and I love it. The shade blue in the quad is fantastic as well (it layers nicely and has a really interesting pure-but-muted-blue vibe to it; not quite freshwater, not quite navy, not quite teal) but because the white is just so soft, it takes the cake.
The verdict? I really like the shades in this quad, but I would have liked to see a more uniform formula. If everything swatched as smoothly and with as much pigment as the white (the blue wasn't far behind), I would be all over this — but with the two grey shades both being mildly disappointing, I'd skip this at its $11.95 price tag.
Dimensional Mauve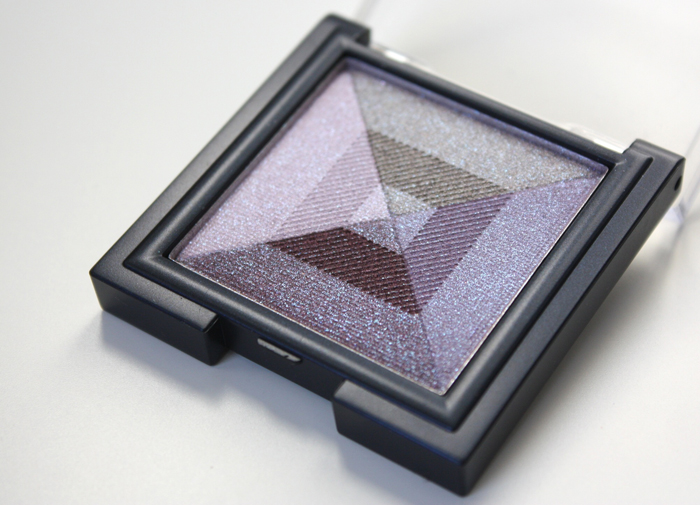 Did this call to me? Um, it's violet. Of course it did. Thankfully, though, it lived up to my expectations!
The lightest shade is much like the white in Dimensional Blue: it goes on really light (in terms of shade, not pigmentation) and is quite soft, layering without becoming chalky. But it's not the main attraction in this quad — nope, that would be the taupe. It's crazy that I could possibly like something more than a violet shade (especially as the quad is all about mauve), but the taupe is just really… WOW. It's soft, it's smooth, and it's perfection! Like any good taupe, it's incredibly versatile, and can pull any which way: violet, gold, silver…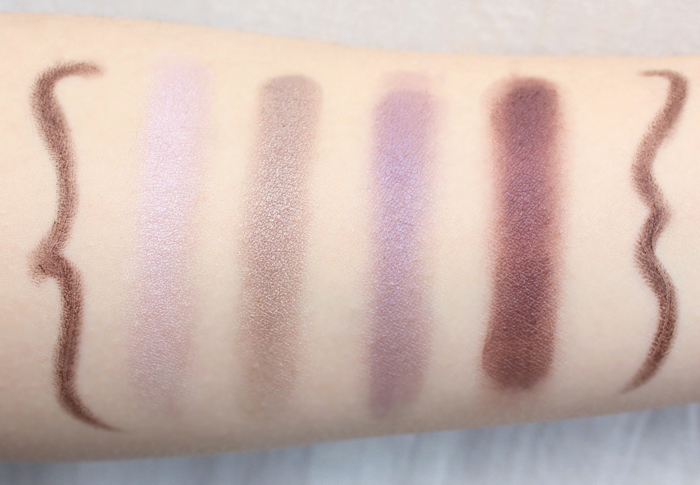 Also swatched DRY on bare skin; clockwise starting on the left-hand side.
The other two shades are just as nice, but the top shade really hit my soft spot for taupes. The shade on the right swatches as a smooth mid-tone violet with more than decent pigmentation and a satiny finish (no shimmer fallout here), and the darker shade on the bottom is a really gorgeous plum, again with fab pigmentation. It reminds me a lot of Korres Plum, but stunningly, it's much more pigmented and easy to work with!
The verdict? Yes, yes, yes! Heck, if these came as four separate shades for $11 each, I'd still be recommending them to you. So lovely.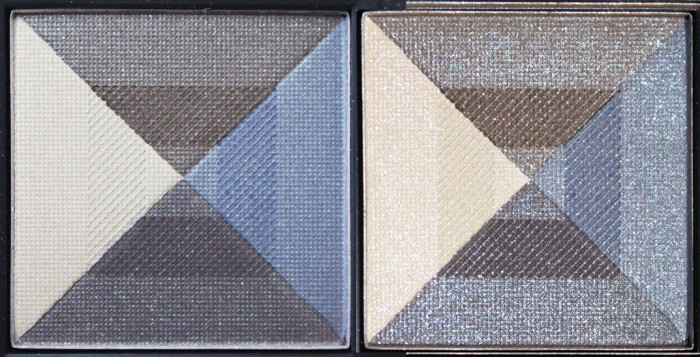 Dimensional Blue in indirect sunlight, then in direct sunlight
An additional note: Like most soft, shimmery, multi-shade-single-pan items (think Bobbi's Shimmerbricks), these shadows are very soft, and may not travel well! These broke in the mail the first time 'round, so make sure to wrap them well if they're for a friend, or just to treat them gently if they're your own. I haven't had any troubles with these since then, though, so perhaps Canada Post was just particularly brutal to their mail last month!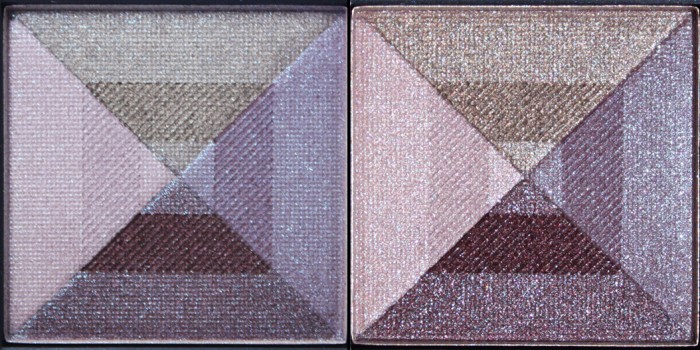 Dimensional Mauve in indirect sunlight, then in direct sunlight
An additional note to tack on to the other additional note: a huge thank you to Isabel and the folks at Marcelle for sending these out (again)!! Now, my lovelies, go check out Isabel's blog — Marcelle has done some cute ads for their Rouge Xpression lipsticks recently, and they're worth a watch!