About the seller
Nicholette, the blending brains behind this whole op (har har, Opulent… sorry. I'll stop.) is such a wonderful seller — the customer service is great, she's really accommodating, and the samples all look divine! You can really tell that everything's been filled, labelled, and packed with care; my samples came super-full and carefully labelled. Plus, they arrived bundled safety in four or five perfectly-wrapped pieces of tissue and a bubble mailer. No cracks, leaks, or other packaging mishaps here!
Unlike a lot of sellers who promise "carefully chosen" extra samples "if available," Nicholette actually pays attention to her customers. I had asked her to switch out L'Artisan Parfumeur Tea For Two for a sample of Annick Goutal Petite Cherie at the last moment, and was disappointed when I opened up the package to find Tea For Two… until I saw that she had included both! My other surprise sample was a dupe of Serge Lutens Un Bois Vanille, and I'm guessing it's because (even I had to sort through old emails to figure this one out,) I had mentioned my budding vanilla addiction when I first asked about samples.
Now that, my dears, is dedication.
About the dupes
This section is long. I know, and I'm sorry. The really important stuff's bolded, though, so you could always just read those bits!
Coco (Chanel) smells absolutely nothing like Coco, if you ask me! This was the first dupe I tried on, and I was horrified — it's not sophisticated, and it's not spicy. Which is not to say that some people wouldn't like it, but on my skin, at least, it just smelled like a mess of soapy essential oils! It was far enough off the mark that I almost burst into tears. What can I say: I had my hopes up, and I was having a really awful day!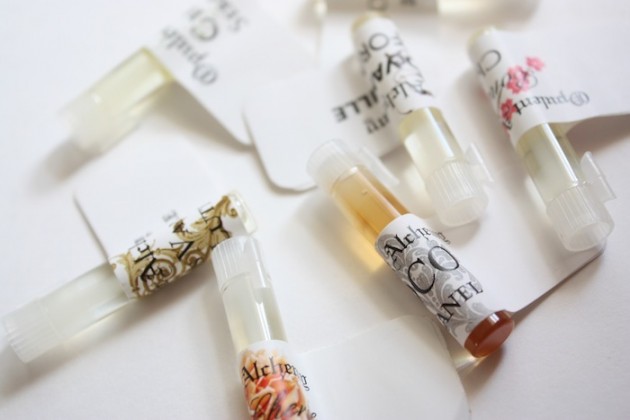 Chinatown (Bond No. 9). Everyone describes Chinatown as one of the most entrancing things they've ever tried; something that never gets boring. Now, I haven't smelled the Bond No. 9, but this was pretty much what I was expecting. It opens as a very sweet, very bold "big white flor(ient)al," and while it is definitely not a scent for the timid, it's quite well-blended. The first few minutes are a bit overwhelming for me, but would be heaven for a lover of white florals and warm, sweet scents! As the top notes evaporate, Chinatown's peach blossom accords, smooth, woody notes, and light spiciness are revealed. However, as to the claim that it is one of the most complex, fascinating scents around? For this dupe, at least: it isn't, in my opinion.
(Also, it makes me think of an Anthropologie shop. I think it might be the bergamot-sandalwood blend, which is common in a lot of the candles and body lotions throughout the store. *shrugs* I don't know. It kinda smells like a really pretty room spray or something, rather than a perfume.)
Un Bois Vanille (Serge Lutens) was a sample I didn't end up ordering, because I thought I'd hate it! (Hint:  I did not.) I've sampled the actual Serge UBV before, and it has a very specific note that I don't care for — "animalic" would be the proper term to use, but honestly, it's just icky and body-odour-ish. (Most people don't find a lot of b.o. in UBV, but even the smallest amounts of it drive my sensitive nose nuts.) Opulent Alchemy's dupe, however, has much less of an animalic note, delivering instead a very smooth, carmelized vanilla — incredibly sweet, yes, but if you're a lover of sweet vanillas (and especially if you love Serge's Un Bois Vanille,) this is a great one!
Petite Cherie (Annick Goutal) is really, really cute. Like with Chinatown, I haven't smelled the actual thing, but now I'd like to! Nicholette's dupe is an easy-to-wear peach; it's very fresh and clean. (A bit too clean and soapy for my tastes.) Unfortunately, if I sniff the base notes reaaaaally closely, I get a whiff of what I'm going to be calling the MEO from now on — the "mess of essential oils." Now, the MEO isn't necessarily a bad thing (I'm sure lots of people smell like that, intentionally!) but it's like a tell for fragrance dupes: if you can smell a MEO, you know it's a dupe. And I mean, the MEO doesn't even have to contain essential oils: it's just the feel of the scent, as if you've walked into that aisle in the health food store where all the scents mix together in an unintelligible mess of notes.
That said, though, none of my other family members had any idea what I was talking about. So, most of you will probably not even notice a MEO in Opulent Alchemy's Petite Cherie dupe!
Tea For Two (L'Artisan Parfumeur) will be reviewed at a later date (in conjunction with the original!)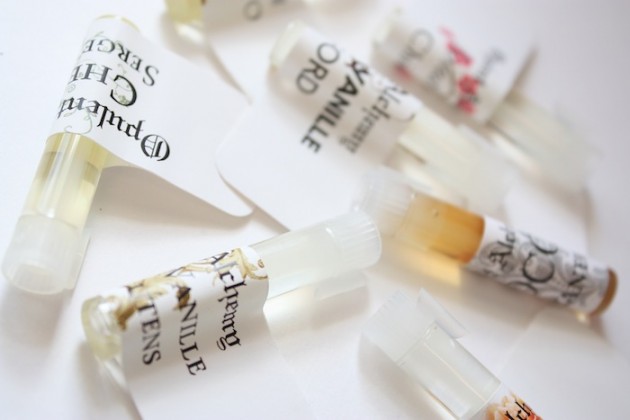 Tobacco Vanille (Tom Ford) is the last of the three fragrances sampled that I haven't smelled the original of. (Did that sentence make any sense whatsoever? No? Okay, whatever.) Anyhow, it certainly is the most masculine of my bunch of samples, and it smells just like tobacco with a touch of smokey vanilla… plus a huge dose of Dimetapp. And a bit of the MEO.
Just callin' it like I smell it, ladies. And I'm smellin' it like it's a little strange. Strange-bad? Well, that's up to you. I didn't care for the blend, but it's far from nauseating.
Chergui (Serge Lutens) was the reason I made the sample order to begin with, and I waited until I had smelled all of the other samples before trying it out. (Chergui is one of my all-time favourites, but is a great deal pricier than I'd like it to be!) When you first try on Opulent Alchemy's Chergui dupe, it's like… if you were wearing Chergui, but then got a bunch of lemon cleaner on your hands, and took a stumble through the scent section of  Whole Foods. Not attractive.
After ten or fifteen minutes, though, this dupe smells almost exactly like the real deal. It's incredible how close the resemblance is! This has the same sexy, spicy, smokey vibe, the same great incense-but-not-icky-incense notes. (I'm very picky about my incense. Trust me on this when I say that Chergui's is great.) I couldn't be more pleased with it!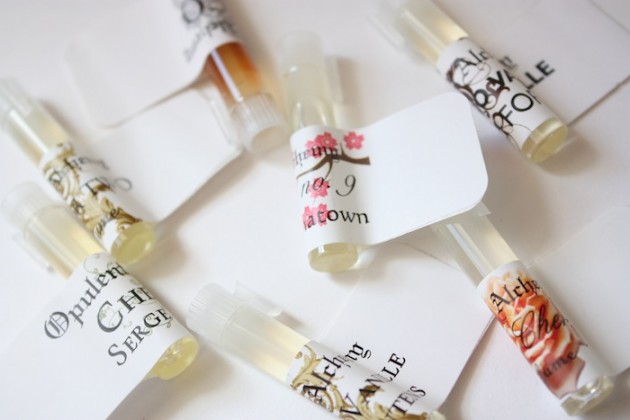 The bottom line
Overall, my experience with Opulent Alchemy was amazing. Obviously, not all the dupes were exact, but I fell in love with more than one — which is pretty impressive, seeing as I'm one of the pickiest people I know! I'd peg the blends (excluding Coco, obviously,) at 80-95%, meaning that they smell 80-90% similar to the fragrances they're supposed to be duping, depending on which one we're talking about. Sure, they're not totally perfect, but many of them are unnervingly similar to the originals! (especially those Serge Lutens dupes!)
Another thing that I really love about these most fragrance oils is that they are so concentrated. While normal Eau de Toilettes last around three hours on my skin, and Eau de Parfums last four to five hours, oils last… and last, and last, and last, right up until the end of the day. And I mean, at under $5 for 1/3oz of oil, they're an incredibly great deal! (1oz sprays are available too, for $14.)
Opulent Alchemy is available here. So go ahead and order some samples — at that price, how could you not? ;) It's a great way to find a cheaper version of your signature scent, or to try out a new, complex blend without spending a fortune.
Just as an fyi: we review a lot of stuff that was submitted for, well, review purposes. This order was not! Even though Nicholette had no idea that I had a blog, much less that I planned on reviewing my order, I still felt like I was getting the VIP treatment or something — but I was just another regular 'ol customer. So, thanks for everything, Opulent Alchemy! :)