While hunting for jeans a few weeks ago, my sister (Rita) and I came across a cute lip gloss trio next to the till in the Gap. I compulsively always check ingredients lists when I see new lip products (Ri's sensitive to parabens, peppermint, nut oils…) and these were no exception.
Long story short, we ended up bringing home three new glosses, along with some pants.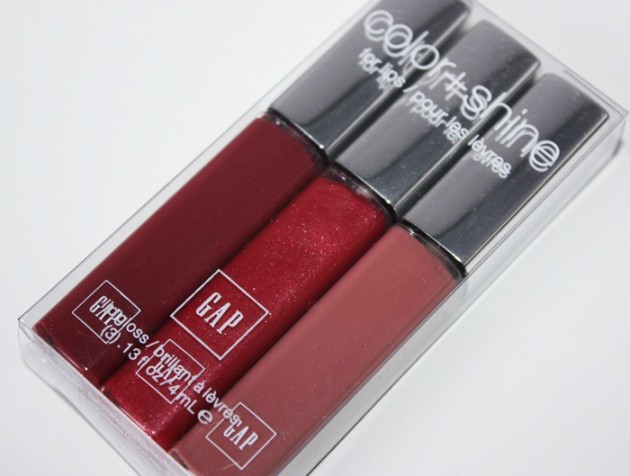 What it is: Gap Color + Shine for lips lipgloss trio (only available in-store)
The formula: I'm not totally in love with these, but they're a lot nicer than I was expecting them to be. They smell kind of like a minty vanilla and wear for about 2-3 hours (the darker shades leave a stain for longer). I was expecting the glosses to be gloopy, sticky messes, but they're actually really smooth — heavy, of course, with a tiny bit of tackiness if you smack your lips together, but FAR from sticky. These glosses actually remind me a lot of one of my drugstore faves, CoverGirl's Amazemint line.
The shades: These were what really sold me on the glosses; let's be honest. As you all know, I love a smooth, shimmer-free red, and am always on the hunt for a creamy nude. This had both, so we had to give it a try!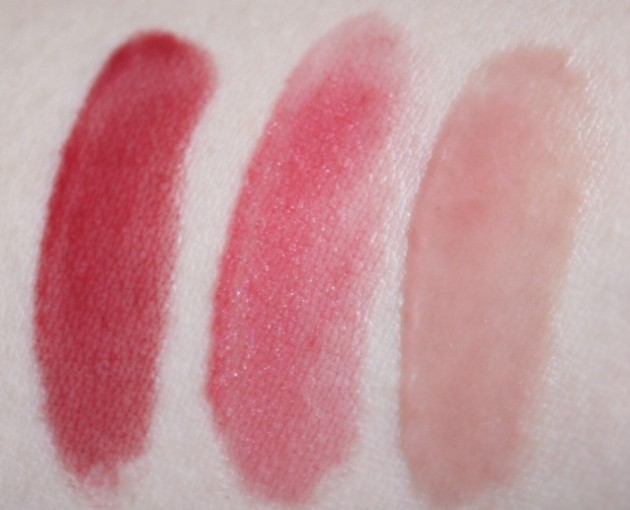 The dark red: a fairly neutral, shimmer-free brownish-berry. This is one of my favourite types of red: it's the perfect alternative to the B-O-L-D red lip! The medium-sheer formula gives you lots of elbow room (it's easy to get a little more or a little less colour), and it leaves a nice stain behind.
The medium red: the only shimmery shade of the trio, and the most "fun." This one is on the warmer side, almost an orange-red, but it isn't so warm that it looks funny on my cool-toned complexion. I can't feel the shimmer particles, and to be honest, I kinda like the fresh, juicy look this shade imparts! Like the dark red, its pigmentation is medium as well, and it leaves a pretty stain.
The medium nude: as expected, this is the most sheer! It just barely tones down my lips, but it does give a really natural-but-hydrated look. If you're slicking on gloss without a mirror, this is the shade to go with :o)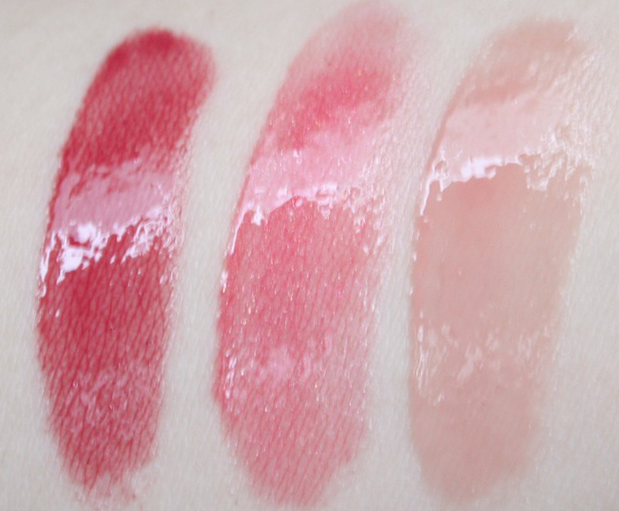 (this is a bit blurry, yes, but it shows off the shine quite well!)
The verdict? At $12.50 for three glosses (that's about $4 a shade), these are a definite YES! The formula's more than decent and the colours are great. I'm still stunned that I like a clothing-line gloss this much :P Ri turned out to be allergic to them anyways (we're thinking she may be allergic to cinnimates as well), but that's a-okay with me!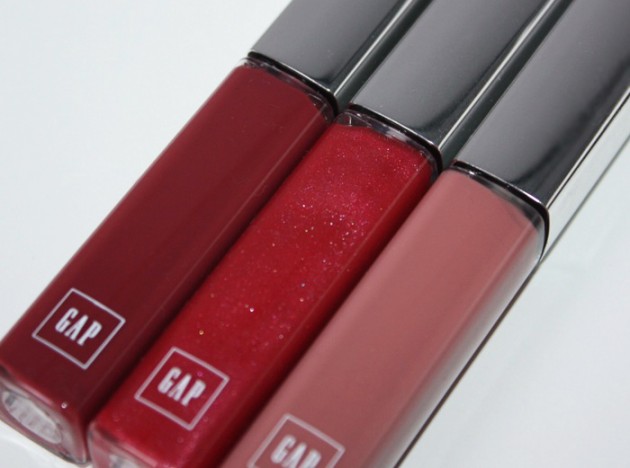 P.S. The dark shade is actually a great dupe for MAC Plum Perfect Tinted Lip Conditioner. It's a little less brown, but seeing as they wear for the same length of time and even smell similar, I think I'll forgive the minor differences in favour for the price difference (MAC's TLCs are $17.50 in Canada; ouch!)
Here it is next to Plum Perfect (left) and a discontinued gloss that I was hoping it would be a dupe for (right; it wasn't, unfortunately)…