What it is: Marcelle Essentials Purity Soothing Cleansing Water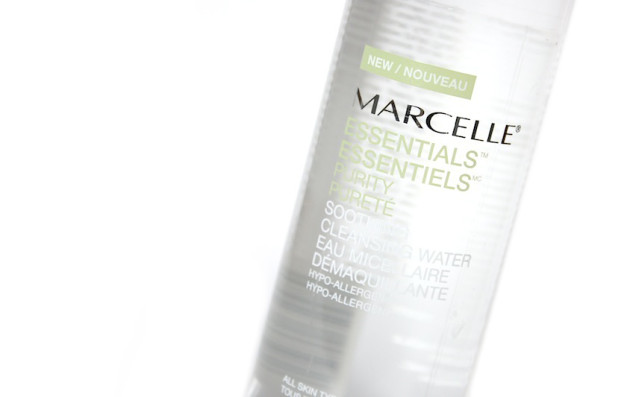 The truth: I haven't a clue what a "cleansing water" is supposed to be – they've always confused me. I mean, I suppose I get the concept, but I just don't understand how they could possibly work, much less work well! They're liquids that look and feel like water, or occasionally like tinted water, but they cleanse, tone, and remove makeup.
About this one: I guess what I mean to say is… whatever. I don't really care what this should be, but what I can tell you is that it is amazing. Like, so amazing that I can't even begin to understand why Marcelle is still selling… um… anything else, as far as cleansing, toning, or makeup removal goes, really.

a few other cleansing waters
What it does:
Removes eye makeup, even if you're wearing primer under your shadow and liner on your waterline.
So, obviously, it also removes all other face makeup!
Cleanses the skin without the need for water.
Leaves the skin feeling, yes, toned and soft.
(Very soft!)
What it doesn't do:
Strip the skin of moisture (my skin feels tight and clean after using this, but no differently than it feels after I use any other gentle toner.)
Impart moisture, like a cleansing milk may.
Cost an arm and a leg – it's just $14.25CAD for 200mL
Smell funny (it actually smells pretty nice; light and fresh!)
Make me angry by containing parabens, silicones, or SLS.
Take out the garbage.
The only drawback: This stings a little around my eye area, if I use it to remove liner. However, I wouldn't let this dissuade you in the least! I've never tried a makeup remover that hasn't stung my eye area at least a bit, and I do find this one more gentle than The Body Shop's eye makeup remover (often said to be the most gentle one out there.)
The verdict?
Oh, don't be daft. You absolutely, absolutely need this! It's incredible – to be honest, I'm surprised someone hasn't written some sort of sonnet about it yet.
Because yeah, it really is that good.
Disclaimer: this post may contain affiliate links and/or products submitted to theNotice for editorial consideration. To find out more, please visit our About/Disclaimer page.